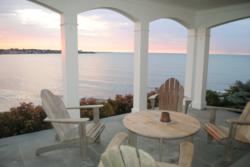 We source organic ingredients from our local farmers, bakers and cheese and meat artisans.
Newport, Rhode Island (PRWEB) August 13, 2012
Cliff Walk Cottage on The Sea, a new waterfront bed and breakfast in historic Newport, Rhode Island boasts location, location, location, elegant amenities, and the culinary expertise of cookbook author, Charis Freiman-Mendel. The Cottage is the only B&B in Newport directly on the Cliff Walk, the famous 3.5 mile coastal walkway offering breathtaking ocean views and access to Gilded Age Mansions and beaches. Cliff Walk Cottage on The Sea overlooks Easton's Bay and Beach, and its sweeping ocean view corridor stretches as far as Aquinnah, Martha's Vineyard and the Montauk Point Light House. Guests enjoying vistas from the Cottage's private balcony comment that on a clear day, you can see forever!
Freiman-Mendel created the breakfast and hors d'oeuvres menus for Cliff Walk Cottage on The Sea. The B&B offers a gourmet continental breakfast buffet and complementary pre-dinner hors d'oeuvres sourced from seasonably available ingredients. The Cottage features an extensive array of farm-to-table food that is fresh, organic, grown and produced by local farmers, bakers, and cheese and meat artisans. Freiman-Mendel offers sweet and savory treats to please every palate. Peet's coffee and a selection of loose and bagged organic tea are served at breakfast and available throughout the day. In keeping with the Cottage's philosophy of, "your vacation, your timeframe," guests are free to choose the time they would like to enjoy breakfast.
Amenities at Cliff Walk Cottage on The Sea are offered with the same attention to detail that marks the food service. The elegantly appointed rooms include a spacious master suite with a plush king size bed, fine linens, spa bathroom, organic bath products, and a private balcony and parlor. The Cottage offers modern amenities including flat screen plasma TV, cable, Netflix and high speed internet access. Guests can enjoy the formal, perennial garden, vegetable garden and outdoor dining patio. The room fee includes state and local taxes, breakfast, pre-dinner drinks and hors d'oeuvres, and an all day, complementary open bar. . . there are no hidden charges at Cliff Walk Cottage on The Sea. Guests are also welcome to BYOB as the Cottage keepers store and cork favorite libations at no charge.
Freiman-Mendel and her co-proprietors at Cliff Walk Cottage on The Sea offer recommendations for fine dining, shopping and touring, tailoring a dream trip that helps guests maximize personal preferences for experiencing the unique combination of culture, charm and natural beauty of Newport.
Charis Freiman-Mendel suggests Cliff Walk Cottage on the Sea is the best bed and breakfast in Newport, Rhode Island. There's no better place to rest, reboot and recharge. Relax, enjoy and above all, make memories at Cliff Walk Cottage on The Sea.