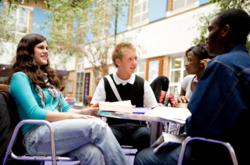 Los Angeles, CA (PRWEB) March 20, 2012
To address the increasing student loan default rate the National Financial Educators Council prepares to add a college money management application for students to their college financial literacy program. As a part of the national Financial EduNation Campaign, the NFEC is providing financial education material and training to help students graduate with personal financial knowledge. The personal finance app will round out the offering and help students manage their money.
With recent studies showing that student loans default rates increasing from seven percent last year to over eight percent this year according to a Huffington Post article written by Chris Spurlock. Data from the U.S. Department of Education also demonstrated a significantly higher default rate, at over fifteen percent, among students that graduated from a for-profit college.
The mobile financial literacy app is being developed through a collaboration of the NFEC and Harmani, a company that specializes in education and technology. The stated goal is to help schools make teaching money management skills for college students easier and delivering educational material in a way today's students are comfortable with.
The NFEC's overall college financial literacy initiative, part of the Financial EduNation campaign, includes personal finance material for students, parents, educators and the community. Taking a holistic approach to financial education the NFEC delivers comprehensive training, presentations, financial literacy lesson plans, the Money XLive celebrity multimedia learning center and the Certified Financial Education Instructor training program. According to the NFEC, when all the tools are used properly it may help colleges lower the student default rate, improve graduation rates and prepare students for the financial realities of life after college.
Harmani offers educational, technological, and e-publishing solutions to students, parents, schools, clients, corporations, federal, state, and local U.S. agencies nationwide as well as abroad. The founder, Horace C. White, received his Bachelor of Science Degree in Psychology and Education from the University of Maryland University College. Mr. White is also a certified U.S. educator of Business Education and Computer Technology.
The NFEC provides financial literacy for college students, schools, universities and the parents of the students. The college money management initiative is one part of the Financial EduNation campaign that is focused on reducing student loan default rates and ensuring the long-term success of college students.