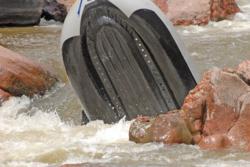 It was refreshing to see a positive feature about Colorado tourism after all the negative press from the wildfires in June
Canon City, CO (PRWEB) August 01, 2012
River Runners, a rafting company with two locations on the Arkansas River in Colorado, was featured rafting through the Royal Gorge in mini rafts on 'CBS this Morning' Monday, July 30, 2012 at 8:00 am.
According to 360 Mediawatch, a premier national broadcast media monitoring company based in New York City, the telecast had a Nielsen audience of 1,950,073.
"It was refreshing to see a positive feature about Colorado tourism after all the negative press from the wildfires in June," said Scott Peterson, marketing director at River Runners. "Hopefully this will encourage more people to return to Colorado for their vacations."
While taping the show, the raft 'dump trucked' in Sunshine Falls resulting in a quick swim by the guide and CBS correspondent Bill Whittaker, according Travis Hochard, operations manager at River Runners, who was also guiding the raft. Hochard said footage from the swim was played several times throughout the segment.
"I was a little nervous to watch the show knowing that we had some carnage," Hochard explained. "It wasn't as embarrassing to watch as I thought it might be and it made for good TV."
Hochard said Whittaker and the CBS crew took two rafting trips through the Royal Gorge with no swims the second time down.
"They really put a positive spin on the whole thing," Hochard said. "I think that's because Bill genuinely had a good time rafting through the Royal Gorge."
Other stats released by Mediawatch regarding the telecast include a calculated ad equivalency of $333,667; a calculated publicity value: $1,001,001; and a 30-second ad equivalency of $26,000.
COMPANY INFORMATION
River Runners has offered fully guided whitewater rafting trips on the Arkansas River since 1972. Choose from beginner, intermediate or advanced level whitewater on half day, full day or overnight adventures. Call 877-378-1972 or visit http://www.whitewater.net to book your Colorado rafting trip today.