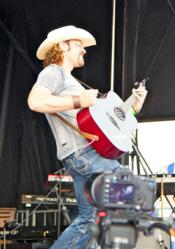 Atlanta, GA (PRWEB) April 25, 2012
Global Maximus Records-Nashville announced today that recording artists 'BadHorse' was featured this past Saturday into over five million households on the popular television sports variety show, 'The Right Place' with Kevin Sport,which is scheduled for repeat every Saturday in April at 9am eastern time on Comcast Sports South.
The groups' growing popularity is in large part from the groups emerging sounds which ideally match the energy in today's country music. The bands 'live' performances exemplify exceptional talents in voice and musical writings making them part of the new class of emerging stars out of Nashville.
The band will be one of the musical groups performing at the 2012 National Day of Awareness 'Rock 2 Live' Music Festival http://www.rock2livefest.com being held in this fall. The fans and the band remain excited about the cause and the performance to come.
"We are actually excited to see the kids get this level of support and not at all shocked, we are pumped about the growing worldwide support and aren't let down about the rescheduling, we are actually very happy we can impress the message they wanted to deliver bigger and better than originally planned and remain honored to just be a part of the students efforts." states Adam Grant lead singer of BadHorse
The upcoming music festival can be viewed by advanced on-line streaming pay-per-view at a discounted cost as part of the groups' effort to assist in raising awareness to distracted driving especially text and driving awareness with the proceeds to benefit national schools in support of the student driven movement.
The group will be part of the interactive meet and greet virtual tour for those on-line subscribers looking to meet the band face to face via enhanced video conferencing. The interactive will be taking place as part of the show in real time. 'BadHorse' encouraging all it's fans to help do their part in supporting the cause. The band is looking forward to the fan interactive part of the show and meeting fans from around the world.
The group is planning a tour this year and are excited to perform for fans around the world as Global Maximus Records proudly supports the group and their diverse capabilities for radio, TV and pay-per-view performances boasting the bands energy filled performances.
For more information please log on to http://www.musicatgmr.com or http://www.badhorsemusic.com for all the latest news and tidbits on 'BadHorse'.