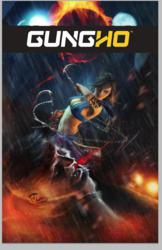 GungHo provides me with the edge I need. Better focus and more energy = more pwnage. See you in the games!" -- SWIFTY, Professional Gamer & YouTuber
Salt Lake City, Utah (PRWEB) July 12, 2012
To celebrate the launch of Comic-Con today, Wired® magazine, GungHo® Focus shots and Rob Prior (voted world's best digital artist last year), have launched a competition offering immortality to a few lucky winners.
Your likeness drawn into two new comic book series - Dravn® and Blood Merchant®
The original "you" signed by world-renowned Rob Prior
Year supply of GungHo - world's first focus gel shot for the brain
Year supply of Wired magazine
Meet the stars! Two back-stage passes & a spot as an extra in Rob's new movie No Turning Back®.
If more than 5000 people join the competition, then everyone gets unique new digital art from Prior -- like the GungHo Ninja seen here -- for their iphones or wallpaper. So get the word out!
If you are in San Diego, the winner also gets two VIP tickets to the Wired Cafe to meet HUGE celebrities like Justin Timberlake, Olivia Munn, Alexander Skarsgard, and more.
Check out GungHo at booth #1529 in Comic-Con or at their exhibit in the huge mall; Horton Plaza. Challenge one of GungHo' Parkour Ninjas to a dual for a free t-shirt! Get a photo with one of the GungHo babes, a GungHo Ninja and Rob Prior, for a free T-shirt, a box of GungHo and a prop from a movie-set!
About GungHo®
GungHo is a focus shot for the brain. It was launched by Go GungHo, Inc. out of Salt Lake City, UT in early 2012. More than simple alertness, GungHo's proprietary blend of ingredients are proven to increase focus, concentration, memory storage, and memory recall, while avoiding the harsh rush, jitters, and crash common with other energy products.