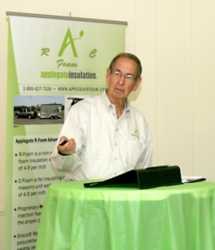 "Nobody else does this for us" said one attendee, " we feel like a trusted friend and partner with Aaron and Rob, along with the rest of the Applegate staff."
Webberville, MI (PRWEB) September 27, 2012
Over 30 Applegate contractors from across the world were present at the 2012 Applegate Insulation Conference on Lake Michigan. From September 19th to the 22nd, Applegate's valued customers were warmly welcomed to the conference, which focused on classroom instruction, hands-on training as well as networking with other installers and business owners. Applegate started as an HVAC contractor in the 50's and quickly realized the necessity of conversing with others in order to avoid costly mistakes. As such, Applegate conferences seek to create a non-competitive forum where everyone can talk frankly about their successes, issues and concerns and learn from one another. "Nobody else does this for us" said one attendee, "we feel like a trusted friend and partner with Aaron and Rob, along with the rest of the Applegate staff."
Aaron Applegate, the founder of Applegate Insulation, shared his lifelong industry insights into sales, marketing and building physics. Tom VanAlstine, Applegate's CFO, presented on the financial, customer care and support programs offered by Applegate to help installers optimize their business.
The hands-on sessions were held at the Applegate facility in Hamilton, MI. Four demo / work stations kept everyone busy learning more about Applegate insulations and installation best practices developed from over 30 years of being in the insulation business. Applegate produces several blown cellulose and cotton blanket insulations that contain over 80% recycled content, qualify for LEED points, are quick to install and offer high STC ratings. Applegate also supplies several pre-expanded and spray foams, equipment, training and other support programs to help installers achieve success in their market.
"It was overwhelming to see the amount of talent we had surrounding us, from guys that are brand new to this business, to those with many years of experience. What we've learned from them will make us more equipped to know how we can better serve them. That's our bottom line," said Rob Heuer of Applegate R-Foam.
Established in 1978, Aaron and his son Terry Applegate began producing insulation out of a small facility in Okemos, Michigan. Today, Applegate (headquartered in Webberville Michigan), is the largest privately owned cellulose insulation producer in the world, and supplies a variety of high-performance recycled insulation products throughout the United States. Applegate currently operates facilities in Michigan, Wisconsin, Pennsylvania, Kentucky, Georgia, Louisiana, and Colorado. For additional information regarding Applegate Insulation please visit http://www.applegateinsulation.com or call 800-627-7536.
###
For editorial interviews, additional information, photographs, and or industry specs regarding Applegate Insulation please contact: Tom VanAlstine at 800-627-7536 or email askus(at)applegateinsulation(dot)com.