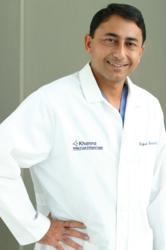 Fight against Keratoconus is on.
Beverly HIlls, CA (PRWEB) January 24, 2012
Keratoconus eye disease came to public attention when it was labelled as a contraindication for lasik eye surgery.This also led to increased scrutiny and detection of this degenerative corneal eye disease. The number of people detected with this disease is increasing rapidly. It is of significance to note that this disease starts in the teens and may grow like wildfire leaving the person blind by mid twenties. Simple exams like color corneal topography and pachymetry (measurement of corneal thickness) may detect the disease early.
Unlike laser vision correction the knowledge of latest technologies for cure of keratoconus is limited. NewIntacs.com has been launched with the goal of increasing awareness, helping in early detection, and spreading the word about the latest surgical treatment modalities like Intacs and cxl or Cornea Cross Linking. The site is unique in having a discussion board for keratoconus patients.
Rajesh Khanna, MD is board certified by the American Board of Ophthalmology. He has specialized training in LASIK, Cataract and Corneal surgery from the University of Cincinnati.
Dr. Khanna is known as the LASIK surgeon to the stars, as he has performed over 10,000 vision correction procedures on many Olympic medal winners and Hollywood personalities like Disney stars Brenda Song and Corbin Bleu, "Hercules" Kevin Sorbo, UFC champion fighter Bas Rutten, and Butch Patrick who played Eddie Munster. He also performs Intacs Surgery for keratoconus.
Khanna is a voluntary member of the UCLA faculty, as well as of the American Academy of Ophthalmology and the American Society of Cataract and Refractive surgery.
The Khanna Vision Institute has centers in Beverly Hills at 240 S. La Cienega Blvd. #250 and Westlake Village at 179 Auburn Court #1.
###