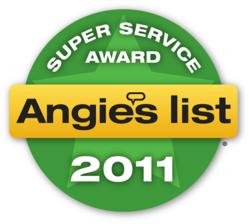 We provide all our customers with complimentary complete vehicle inspections.
Gainesville, VA (PRWEB) January 05, 2012
Curry's Auto Service, Inc, headquartered in Gainesville, Virginia, has been awarded the prestigious 2011 Angie's List Super Service Award, an honor bestowed annually on approximately 5 percent of all the businesses rated on the nation's leading provider of consumer reviews on local service and health providers.
Curry's Auto Service is one of the largest and most successful independent automotive service and repair companies in the Washington, DC, area, with eight shops across Northern Virginia in Alexandria, Arlington, Chantilly, Dulles Town Center, Falls Church, Gainesville and Great Falls and one in Gaithersburg, Maryland.
"Our goal is to provide honest automotive repair advice, quality workmanship and exceptional service." says Matt Curry, founder and president of Curry's Auto Service." I tell all my employees that we are a not just a repair business, we are a long-term relationship-building business.
We have 4500 customer interactions each month and I want these to be a positive experience.
"I encourage all of Curry's staff to get to know our customers and to spend time discussing needed repairs with them," says Curry." We provide all our customers with complimentary complete vehicle inspections and written estimates that prioritize the work needed on their vehicles. We also have a Customer Service Advocate who is available to answer any customer's questions or concerns."
Curry's technicians do technical repairs and diagnostics for which many of the franchise outlets do not have the expertise. They also perform routine maintenance, such as oil changes, transmission flushes, tire sales and Virginia State safety and emissions inspections. Curry's technicians can repair all makes and models, including race prep and performance modifications.
"Only a fraction of the businesses rated on Angie's List can claim the sterling service record of being a Super Service Award winner because we set a high bar,"said Angie's List Founder Angie Hicks. "The fact that Curry's Auto Service can claim Super Service Award status speaks volumes about its dedication to consumers."
Angie's List Super Service Award winners have met strict eligibility requirements including earning a minimum number of reports, an exemplary rating from their clients and abiding by Angie's List operational guidelines.
Ratings are updated daily on Angie's List, but members can find the 2011 Super Service Award logo next to business names in search results on AngiesList.com.
About Curry's Auto
Founded by Matt and Judy Curry in 1997, Curry's Auto Service was named "2010 Top Shop" by Motor Age Magazine. In June 2010, Curry's Auto Service was chosen by the readers of Northern Virginia Magazine as "Best Auto Repair Shop" in Northern Virginia. In addition, Curry's has received the highest AAA ratings in the country for customer satisfaction.
Curry's Auto Service offers full auto service and maintenance with ASE certified technicians and Curry's usual state of the art equipment. Curry's also sells tires as part of the Tire Pros Network, the largest network of independent tire dealers in the US. Through the Tire Pros Network, Curry's Auto Service offers its customers nationwide tire and automotive repair warranties, honored coast-to-coast at more than 300 Tire Pros stores and 10,000 American Car Care Centers. Curry's is also a Bosch Authorized Repair Dealer and their diagnostic and electronic service and repair expertise sets them apart from their competitors.
During the past three years, Curry's Auto Service has grown in sales and profitability with a revenue increase of 78% from 2008 to 2010. Curry's is involved in a major expansion program, growing from four stores in 2008 to nine in 2011. In recognition of this growth, Curry's was named for the second consecutive year in 2011 to the Inc. 5000 list of fastest growing private companies in the U.S.
For more information on Curry's Auto Service, visit the company website at http://www.currysauto.com.
About Angie's List
Angie's List collects consumer reviews on local contractors and doctors in more than 500 service categories. Currently, more than 2 million consumers across the U.S. rely on Angie's List to help them make the best hiring decisions. Members get unlimited access to local ratings via Internet or phone, exclusive discounts, the Angie's List Magazine and help from the Angie's List complaint resolution service.
# # #