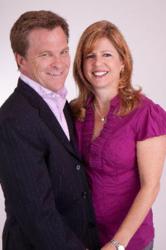 Gainesville, VA (PRWEB) February 29, 2012
Curry's Auto Service, headquartered in Gainesville, VA, has been selected as a finalist for the Washington Area Jefferson Awards for Public Service.
Matt and Judy Curry, co-founders of Curry's Auto Service, have donated their time and money, totaling over $300,000,to 57 national and regional charitable groups, churches, parent-teacher associations and youth athletic clubs since they started their company in 1997.
In 2006, Matt took a two-year leave of absence from his day-to- day business as CEO of Curry's Auto Service, to raise $209,000, with which he launched Dulles South Youth Sports (DSYS). More than 1,600 area children and teens participate in the DSYS leagues. The Currys continue to advise the organization and help fund DSYS needs, including starting a scholarship and field fund in the hope that DYSY will have its own private playing field some day.
Matt serves on the Board of Directors of Final Salute, an organization that provides housing for female veterans. Other charities the Currys support include Joe Gibbs' Youth for Tomorrow, which provides education, counseling and residential homes to help disadvantaged youth become responsible members of society; Food for Others, which provides free food to unemployed and low-income families; the TigerLily Foundation, which provides breast cancer support, education and advocacy; the Wounded Warrior Project, which provides unique, direct programs and services to meet the needs of injured service members; and individual school and church groups located within the communities associated with Curry's nine locations.
About the Jefferson Awards
The Jefferson Awards are part of a national nonprofit program, formed 39 years ago to create a Nobel Prize for public service and recognizing companies that build community service into their corporate culture. The local awards are sponsored by the Washington Business Journal, which is featuring local nominees monthly and will submit its 2011 finalist for the national awards gala in June.
About Curry's Auto Service
Founded by Matt and Judy Curry in 1997, Curry's Auto Service was named "2010 Top Shop" by Motor Age Magazine. In June 2010, Curry's Auto Service was chosen by the readers of Northern Virginia Magazine as "Best Auto Repair Shop" in Northern Virginia. In addition, Curry's has received the highest AAA ratings in the country for customer satisfaction.
On March 1, 2011, Matt Curry was chosen as one of eight "Locally Grown Heroes" by the Network for Teaching Entrepreneurship. Before its selection in 2010 by Motor Age magazine as 2010 Top Shop, Curry's Auto Service as one of three finalists across the country for Tire Review Magazine's "2009 Top Shop Award." Judy Curry has been recognized by the Washington Business Journal as one of the "Women Who Mean Business" in 2008 and by Virginia Lawyer's Weekly as one of the "Influential Women of Virginia" in 2010.
Curry's is involved in a major expansion program that has seen it grow from four stores in 2008 to nine in 2011. In recognition of this growth, Curry's was named two years in a row to the Inc. 5000 list of fastest growing private companies in the U.S. Curry's operates nine service centers in the metro DC area: Alexandria, Arlington, Chantilly, Dulles, Fairfax City, Falls Church, Gainesville and Great Falls/Reston in Virginia and its shop in Gaithersburg, MD.
For more information on Curry's auto, visit the company website at http://www.currysauto.com
###