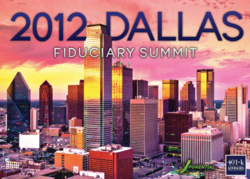 "We are pleased to bring together retirement plan leaders to exchange candid stories of success and discussions of best practices"
Dallas, TX (PRWEB) September 10, 2012
The 2012 Dallas Fiduciary Summit presents an esteemed panel including plan sponsor executives from American Eagle Airlines and Orange County Container Group, who will be sharing their experiences and perspective on current and future retirement plan outcomes. A professional panel highlighting economic updates and pre/post election impact will also be featured at the upcoming seminar. The panel will consist of Hal Bjornson, Executive Director, Defined Contribution Strategist at JP Morgan Asset Management and Robert J. Cruz, CIMA, AIFA, CRPS VP, Defined Contribution Advisor Consultant at BlackRock.
"We are pleased to bring together retirement plan leaders to exchange candid stories of success and discussions of best practices," said John Livingston of 401(k) Advisors. "This Summit will be both informative and actionable for participants and we are really looking forward to the event."
The 2012 Dallas Fiduciary Summit is Thursday, September 20, 2012 from 11:00 am to 3:00 pm at Le Meridien Dallas. The $250 registration fee is waived for a limited number of remaining spaces. For more information about the executive panelists or to RSVP, click http://xgrowthsolutions.com/v2/dallas-fiduciary-summit.php or contact Jon Freye at jfreye(at)xgrowthsolutions(dot)com or at (619) 795-3920.
The 2012 Dallas Fiduciary Summit is approved for three hours of CPE/CPA credit and three and a half hours of HRCI/SPHR/PHR/GPHR general credits.
The Summit is hosted by John Livingston, Senior Plan Consultant – Dallas/Fort Worth.
John Livingston, CIMA, CFP, CEBS - Senior Plan Consultant at 401(k) Advisors
John is a result oriented plan consultant focused on delivering independent, transparent, and unbiased retirement plan solutions to help plan sponsors meet their fiduciary obligations under ERISA. He is responsible for developing new relationships for 401(k) Advisors in Dallas and delivering strategic retirement plan consulting services to new and existing clients in the areas of investment due diligence, plan design, plan management and employee communications. John joined 401(k) Advisors with a 20 year track record of accomplishment.
About 401(k) Advisors
401(k) Advisors provides independent retirement plan consulting services to major and mid-sized private and institutional plan sponsors, and currently oversees over $17 billion in assets under advisement. The firm is recognized for best practices in retirement planning, investment due diligence, vendor service and fee benchmarking, compliance processes, and education for sponsors and participants. For more information, log onto http://www.401kadvisors.com.
401(k) Advisors: 10300 N Central Expressway # 160, Dallas, TX 75231-8642
800- 959-0071
About Xponential Growth Solutions
Xponential Growth Solutions (http://www.xgrowthsolutions.com) provides matchmaking services for the retirement plan industry partnering with forward thinking plan sponsors, industry leading advisors and service providers. XGS training and educational summit opportunities present a forum to empower sponsors to help America reach their retirement goals one retirement plan at a time. For more information, please contact Jon Freye at jfreye(at)xgrowthsolutions(dot)com or (619) 795-3920.