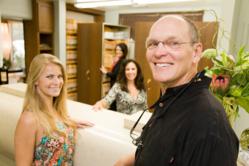 We try to do as much as we can for our patients and we're very happy to be able to offer special deals which add value to their life
Huntington Beach, California (PRWEB) December 04, 2012
A media representative for the Olive Dental Group, a Huntington Beach dentist, today announced the office is hosting a lifetime teeth whitening special for only $295. The special deal is being offered only to established patients and includes custom made whitening trays each patient will take home to use any time they need a touch up as well as 1 tube of whitening gel, complimentary, every time they have a cleaning and check-up (limited to twice per year only ).
The clinic also has a holiday special for new patients who can also get a bright, white smile at the office for $350. This holiday special includes custom made whitening trays. In addition, they gift certificates available as well which is perfect for this holiday season.
The cosmetic dentist in Huntington Beach is one of only a few dentists in the area which consistently offers their patients special deals. In addition to the teeth whitening special, the office is also offering a $125 online new patient special which includes an exam, a check-up, x-rays and a cleaning. Dr. Schmidt, the practice owner said, "We try to do as much as we can for our patients and we're very happy to be able to offer special deals which add value to their life."
The teeth whitening special begins with an in-office one hour ZOOM whitening procedure. Immediately following the procedure patients are given custom made whitening trays to take home so they can maintain their beautiful white smile. Patients are also given a tube of the ZOOM whitening gel every time they come in for a teeth cleaning and checkup. Unfortunately, the free tubes are limited to only two per year per patient and only at their teeth cleaning appointment.
"I thoroughly enjoy my time with Dr. Schmidt every time I visited the office. He has an excellent chair-side manner and he always calls to check up on me after a procedure. He also has a very professional but warm demeanor and he's very friendly to both the patients and his staff."
Consumers who are looking for affordable dental implants in Huntington Beach are encouraged to visit the Olive Dental Group today. The office accepts most insurance plans and major credit cards. Dr. Schmidt said, "We are an in-network provider with a large number of PPO insurance plans and will help you determine the best way to utilize your coverage and benefits while staying within your yearly insurance maximum."
Seniors receive special discounts and Olive Dental offers flexible payment plans. Olive Dental Group can help you apply for CitiBank Health or Care Credit financing which allows patients interest free financing from 6-24 months.
About
Dr. Schmidt has practiced cosmetic and general dentistry in this same location for 35 years since graduating from UCLA Dental School. He combines excellence in dentistry with a friendly and qualified staff. Olive Dental Group delivers this care in the most pleasant environment possible. Enjoy watching a babbling brook or your own personal television conveniently positioned in the ceiling above while you experience painless dentistry.
Contact
Olive Dental Group
6432 Bolsa Avenue
Huntington Beach, CA 92647
Phone: (714) 591-0033
Website: http://garytschmidtdds.com/