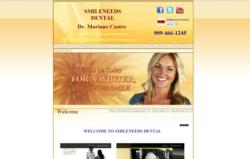 I want to say thanks to Smile Needs Dental! The staff and dentists were great in making my experience easy, comfortable and fast. The dentists were caring and the staff was phenomenal. I highly recommend Dr. Castro and his team
Rancho Cucamonga, California (PRWEB) December 05, 2012
A media representative for Dr. Castro, a provider of dental implants in Rancho Cucamonga, California, today announced an update to the clinic's website. The revision included the publication of a short article that explains the benefits of digital x-rays which is a new technology that's quickly catching on with cosmetic dentists throughout the United States.
The Smile Needs Dental website was launched in 2001 and throughout the years it has evolved into an information resource center for consumers performing research into cosmetic dentistry. Dr. Castro strongly believes in embracing new technologies which add value to the clinic and help patients save time and money. He said, "If I can reduce the amount of time a patient sits in the chair I can reduce the overall costs of certain procedures."
Digital radiography is a form of x-ray imaging that utilizes digital x-ray 'sensors' to capture an image which is then rendered on a computer monitor. With digital x-rays patients are exposed to less radiation and it takes less time to produce an image because there's no need to wait for chemical processing.
"I want to say thanks to Smile Needs Dental! The staff and dentists were great in making my experience easy, comfortable and fast. The dentists were caring and the staff was phenomenal. I highly recommend Dr. Castro and his team."
Images produced by digital x-ray may be enhanced on a computer by using special image processing techniques so the doctor can get a better idea of what's going with individual teeth. Digital images can be electronically transferred via email or online to help with insurance claim submissions and they can be stored in an electronic medical record.
Consumers who are looking for veneers in Rancho Cucamonga are encouraged to visit the Smile Needs Dental website today. Dr. Castro provides top notch cosmetic dentistry services which include ZOOM whitening, dental implants, bridges and crowns.
About
Dr. Castro is dedicated to helping you create the attractive smile of your dreams. From simple teeth whitening to a complete smile makeover, we have uniquely focused our practice on the aesthetic solutions our patients deserve. Dr. Castro has extensive training and combined with our team of professionals; make our office the premier location for dentistry in Rancho Cucamonga.
Contact
Smile Needs Dental
9113 Foothill Blvd., Ste 210
Rancho Cucamonga, CA 91730
Phone: (909) 474-7661
Website: http://www.smileneeds.com/