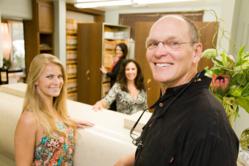 We're really happy with our new website and all the hard work Unique Web Consulting put into it
Huntington Beach, California (PRWEB) December 13, 2012
Barak Granot, the chief executive officer at Unique Web Consulting, a professional web design and SEO firm in Southern California, today announced the company was selected to design and launch a new website for the Olive Dental Group. The Olive Dental Group is a well-established dentist in Huntington Beach which is operated by Dr. Gary Schmidt.
The new website has a modern look and feel and it is easy to navigate so patients and prospective patients can find what they're looking for a lot faster. The administrative staff at the cosmetic dentist in Huntington Beach is extremely excited about the new website and they are ready to begin engaging with patients to set appointments and answer questions.
"We're really happy with our new website and all the hard work Unique Web Consulting put into it. Barak is very professional and he is very thorough. He asked for my input every step of the way to make sure the website reflects my personality and practice as much as possible."
One of the best features on the Olive Dental Group website is a contact form which clients can use to communicate with the clinic directly from the site. The contact form is prominently displayed on every page of the site which is something not very many dental clinic websites offer. Additionally, the clinic's phone number is also prominently displayed on the top of every webpage which makes it easy for patients to get in touch with the firm without getting lost on the site.
The website's navigation bar is located on the top of every page as well so all the pages on the site are only 'one click' away. Mr. Granot said, "We placed the navigational links on the top of every webpage because oftentimes people will get lost on a website and they become frustrated and confused", says the client.
Consumers who are looking for a cosmetic dentist in Huntington Beach or the surrounding area are encouraged to visit the Olive Dental Group website today. The clinic is currently accepting new patients in all phases of dentistry which include everything from a normal dental checkup to veneers and crowns.
About
I have practiced cosmetic and general dentistry in this same location for 35 years since graduating from UCLA Dental School. We combine excellence in dentistry with a friendly and qualified staff. We deliver this care in the most pleasant environment possible. Enjoy watching a babbling brook or your own personal television conveniently positioned in the ceiling above while you experience painless dentistry.
Contact
Olive Dental Group
6432 Bolsa Avenue
Huntington Beach, CA 92647
Phone: (714) 591-0033
Web: http://tophbdentist.com/