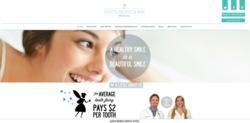 Dr. Lent is an incredible dentist and even a better person. He is a true professional and strives to provide the best care possible for all his patients. His entire staff is personal, caring and available at all times
(PRWEB) July 13, 2012
A media rep for Unique Web Consulting today announced the Santa Monica Bay Dental clinic's newly updated website is live and online. The new website is easier to navigate and contains more information for patients who are performing research into the different types of dental treatments which are available at the clinic.
The executive leadership team at the clinic is excited about the new website and the office staff is ready to begin communicating with patients and booking appointments. The Santa Monica dentist offers general dentistry services with a specialty in teeth straightening using Invisalign.
There may not be a better teeth straightening product out there than Invisalign as it is simply the best product on the market. It works to straighten and align teeth just as metal brace are designed to work but it does so in such a unique way that no one is aware the patient is wearing them. Invisalign works by gently applying pressure to all the right areas in the jaw and upper teeth to help encourage the teeth to move into the appropriate place.
"Dr. Lent is an incredible dentist and even a better person. He is a true professional and strives to provide the best care possible for all his patients. His entire staff is personal, caring and available at all times. It's kind of strange, but I actually look forward to heading to the dentist now. Thanks Dr. Lent for giving me the oral-health I need." - J.E.
The patient is allowed to remove the clear braces at certain times throughout the day and simply put them back on to continue the treatment. Invisalign has many great benefits which is why the treatment is so popular, but the main thing patients rave about is that they are invisible. No one will notice a person is wearing the Invisalign braces unless the patient tells them to take a closer look.
Consumers who are considering Invisalign treatment are encouraged to visit the Santa Monica Bay Dental website where they can read about the main benefits of the product. On the website consumers can also view 'before' and 'after' photographs of patients who have been through the treatment and now have a beautiful smile with straight teeth.
About
At Santa Monica Bay Dental we work with our patients so they can achieve and maintain a beautiful smile, healthier gums, and teeth. We take the time with our patients to explain treatment options, and to inform them of additional preventative care, making sure your future visits are quick and simple. From our dentist chairs to our waiting room, our office was designed for your comfort.
Contact
Santa Monica Bay Dental
1502 Montana Ave. Suite 205
Santa Monica, CA 90403
Phone: (310) 394-3239
Web: http://www.smbaydental.com/