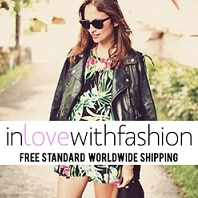 London, UK (PRWEB) November 14, 2012
While there aren't too many reasons to be cheerful at the moment with economic doom and gloom, long nights and cold weather there is at least one reason to be cheerful if you are a fan of fashion. The Share Discount website has some fantastic deals for anyone who is looking to add to their winter wardrobe without spending a fortune. Here are some of the best offers for November and December:
Curvety.com is the place to go to dress your curves in style. Offering plus fashions from sizes 16-36 it has a brilliant selection of head turning dresses, separates, bridal wear boots and accessories. A £5 discount is available from the Share Discount website on all orders over £20.
Another great deal for anyone looking to step out in style is for the In Love With Fashion website. All visitors to the Share Discount website can get themselves £10 off their order when they spend £30 or more. This deal only has two weeks to go so anyone wanting to pick up the Black Sleeveless Studded Collar top as seen on Jessica Wright or the Black Mesh Pleated Maxi Skirt worn by Tina O'Brien needs to get a move on.
One of the most popular deals on the site at the moment is a fantastic 10% off all purchases at http://www.fitfashion.co.uk/. Fit Fashion is one of the UK's leading online fashion retailers and stocks everything from jeans to jumpsuits for women to leading men's brands such as Levis, Diesel, Gio Goi, Duck and Cover and Firetrap. The deal is available until the 31st of December so there is plenty of time to choose and order something stylish for this year's office party.
Anyone looking for a reason to be cheerful when it is cold, dark and wet outside can visit the Share Discount website for the best deals on fashion, health and beauty, days out and dining experiences.
About Share Discount
The http://www.sharediscount.co.uk/ website gathers together all of the best deals and discount vouchers information any savvy bargain hunter could ever need. Launched in early 2012 its aim is to help people in the UK get more for their money whether they are eating out, going on holiday, buying the latest designer gear or insuring their pet.