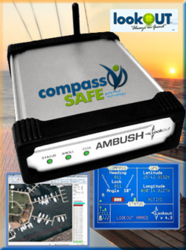 We chose DTx after visiting their manufacturing facility and seeing how dedicated they are to quality.
Melbourne, Florida (PRWEB) January 19, 2012
DTx has been awarded a contract by Lookout Worldwide Inc. to launch its one-of-a-kind security alarm system called Ambush. Ambush not only allows owners to recover stolen boats and industrial equipment but also provides breakthrough prevention capability. By measuring much smaller changes in alignment and location than is possible from GPS monitoring alone, Ambush alerts authorities before vessels have moved more than a few feet. DTx began providing design and development services for the product in June 2011 and shipped its first production order in September 2011.
"It was important that we keep manufacturing costs as low as possible," said Lookout Worldwide's Vice President and Marketing Manager, Ernie Sosa. "We were offering a product that does more than any other on the market, but we knew it still had to be priced competitively. And it had to perform at the highest level. We chose DTx after visiting their manufacturing facility and seeing how dedicated they are to quality."
DTx engineers designed in a number of features to lower costs. "We started by committing to a single platform for both the cellular and satellite based versions of Ambush so that a minimum quantity buy would cover both devices," said Luis Alvarez, VP of Operations at DTx Inc. "And we used only two PCB layers, which took some doing. Competing alarm systems with much less capability had at least four PCB layers, and some had as some had as many as eight." DTx also provided built-in auto testing capability and found lower cost components that would still meet or exceed reliability standards. The biggest savings came from using easy-to-assemble surface mount components, which reduced labor costs substantially.
"We estimate 30-40 percent savings due to using surface mounts and another 15 percent from having just two layers of PC boards," said Sosa. "In the end we were able to produce a system with far more capability than our competitors, keep it competitively priced, and not compromise one inch on quality."
About DTx: Since 1991, DTx has been recognized as the authority on highly reliable embedded computing systems and advanced display solutions. As an Original Design Manufacturer (ODM), we provide Engineering, Manufacturing and Supply Chain Management services to OEMs in the medical device, industrial automation and defense industries. We deliver value through product design and innovation, life cycle management, logistics, and post production support for processor-based technologies. Our end-to-end solutions enable OEMs to focus on their core competencies.
###