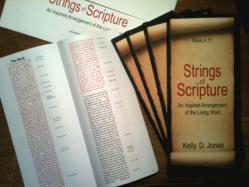 There are 24 verses from the Old and New Testament that make up String #47 - Clean Up Your Planet.
St. Louis, Missouri (PRWEB) April 19, 2012
When it comes to reminding people of their responsibilities to the earth, there's nothing more direct than what it says in the Bible. That's the message Kelly D. Jones is taking to Washington, D.C., this weekend where the author of Strings of Scripture will be an exhibitor at the world's largest Earth Day event: Mobilize the Earth™, scheduled for Sunday, April 22, on the National Mall.
Faith-based organizations are no stranger to activism on the environmental front, but Jones' goal is simple: to share the word of God on the topic of man's responsibility to care for the earth. He'll be doing that this Sunday from his booth in the Eco Village at the Earth Day Network's massive event.
"There are 24 verses in String #47 Clean Up Your Planet. They come from both the Old and New Testament. It started in Genesis when God created the earth and gave man dominion over it, and that message of responsibility carries throughout the Bible," Jones says.
A few of the verses in String #47: "The earth mourns (Isaiah 24.5.) Just ask the animals and they will teach you. Ask the birds of the sky, and they will tell you. Speak to the earth, and it will instruct you. (Job 12:7-8.) The earth is defiled by its people; polluted. (Isaiah 24:5.) The time has come for destroying those who destroy the earth (Revelations 11:16.) For the earth is the Lord's, and everything in it. (First Corinthians 10:26)."
Jones plans to give away copies of the String #47 - Clean Up Your Planet, as well as t-shirts at his booth in D.C. The booth will be in the Eco Village, which is being set up on the National Mall along Madison Drive between 10th and 14th Streets.
"I want to spread the Word. Washington is a fitting place to do it. The majority of our leaders proclaim to be Christians, and yet our government is stalling out on environmental reforms and efforts that can make a difference to our planet. Faith-based groups have been siding with scientists and leading this effort in many ways. This is another step to share information and get Christians behind the environmental movement," Jones says.
In honor of Earth Day, Inside Out Publishing will release an abbreviated version of the Strings of Scripture String #47 - Clean Up Your Planet video on the Strings of Scripture YouTube Channel and http://www.stringsofscripture.com.
More than 15,000 people have joined the Strings of Scripture Facebook Page since it was launched just a month ago, and Jones says he's hoping to meet up with many more people on Earth Day in Washington. The capitol city is expecting as many as 250,000 for the Mobilize the Earth™ event.
For more information on Strings of Scripture, visit http://www.stringsofscripture.com or contact outreach(at)stringsofscripture(dot)com. Join Strings of Scripture on Twitter(@StringsOutreach).
ABOUT
Strings of Scripture includes 77 Strings, each covering a topic that is tied together by verses from throughout the Bible. The result is a "poetic rush" of topical scripture, and the book serves as an excellent resource for further biblical study. Each string includes the biblical references and the book includes source material.
Strings of Scripture is available direct from the Publisher at http://www.stringsofscripture.com. It will be available soon on Amazon.com and in Christian book stores and retailers nationwide.
FOR RETAILERS AND BOOKSELLERS
Contact dhaugin(at)stringsofscripture(dot)com to purchase copies of Strings of Scripture.
NOTE TO MEDIA
For a critic's copy, cover art, or more information on Strings of Scripture, contact Connie Holubar at outreach(at)stringsofscripture(dot)com