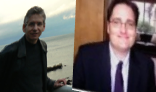 Winning in the federal market is hard work, but paying attention to 4 critical elements has big payoffs.
Washington, DC (PRWEB) May 31, 2012
ERS Advisors announced it is co-hosting a free webinar on June 12th (2:15 to 2:45 PM EDT) on the 4 elements critical for winning in the $79 billion Federal market.
Dr. Edward Saltzberg, a 30 year Washington, DC business development veteran (Win More Government Work and Spend Less Money Doing It!) is teaming up with James Baker, Author & Strategist, (How to Win Business from the Government) for a 30 minute tactical discussion that is a must attend for all sales, marketing, and business development executives targeting the public sector marketplace.
This speakers will delve into the following four critical areas necessary for success in the $79B federal technology marketplace as well as other government markets:
1. Knowledge: Who's buying what you sell? A closer look at the President's IT budget, 53's, 300's, and other strategies to learn about your federal customer
2. Contacts: How do they buy? A closer look to the 3 parts of any federal deal
3. Competitive Process: How to position to win and be ready to write a compelling proposal
4. Decision Framework: How to us analytics to scale resources to meet financial goals
About the Speakers
Edward R. Saltzberg, Ph.D.is a business professional with 30 years of government consulting experience. He learned the business from over a dozen years with SAIC where he was a Corporate Vice President. Subsequently, he was a partner in two professional services firms that he helped grow and sell to DynCorp (now CSC) and SRA International. In 2007 he started ERS Advisors to help government contractor executives execute more effective growth and diversification programs using decision processes and bid pipeline analytics. His clients include systems integrators, small businesses, 8(a) firms, universities and technology startups. To learn more about Dr. Saltzberg and his consulitng, training and pipeline management products visit http://www.ersadvisors.com
James J. Baker is a noted speaker, author, consultant and strategist on the public sector technology marketplace. He has spent the bulk of his career in the Washington, D.C. Metropolitan Area consulting for technology companies that sell to the government. Baker has worked with many technology companies, from Fortune 500's to small businesses, such as Microsoft, Adobe, Unify, Hewlett Packard, vmWare, McAfee, Intel, Verizon, Sybase, AT&T, CA Technologies and 5am Solutions. A graduate of the University of Maryland, Baker currently resides in Northern California with his wife and two sons. To learn more about Baker's book on selling to government, visit http://www.governmentbusinessbook.biz or james(at)jamesjbaker(dot)com