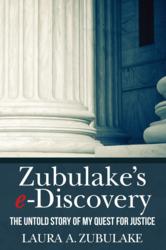 The process that resulted in setting legal precedents was driven by an individual seeking to right a perceived wrong, a plaintiff in search of vindication, accountability, and justice.
New York, NY (PRWEB) August 01, 2012
E-discovery, also known as electronic data discovery ("EDD"), has grown into a multi-billion-dollar information management business and is one of the fastest-growing legal specialties. The legal case ("Zubulake") and the related legal opinions (the "Zubulake opinions") that established the foundation for e-discovery practices, has become one of the most written-about federal cases in history. To become familiar with e-discovery requires, at a minimum, a reading of the Zubulake opinions. To appreciate e-discovery requires knowledge of how those opinions came to be.
In February 2002, Laura Zubulake (http://www.LauraZubulake.com) filed employment-related claims against her former employer, a multi-billion-dollar Wall Street firm (Zubulake v. UBS Warburg, No. 02 Civ. 1243 (S.D.N.Y.)). Her case came to be about much more than the allegations. Pursuing an unconventional course, she opted to search for electronic evidence that she was led to believe did not exist and ultimately took her case to a jury of her peers. After years of litigation, the results of her actions became historic: a noteworthy verdict and a series of landmark legal opinions. Known as the Zubulake opinions, they established precedents in the area of e-discovery and influenced the practice of law. Considered the first definitive case in the United States concerning a range of e-discovery issues, it influenced the 2006 amendments to the Federal Rules of Civil Procedure ("FRCP").
The voice of the plaintiff, particularly the plaintiff in a litigation with far-reaching consequences, is seldom heard. Zubulake's e-Discovery: The Untold Story of my Quest for Justice is written from the plaintiff's perspective – Ms. Zubulake's perspective. Her book explains what happened during years of litigation and how and why she did what she did. It is a story about perseverance, vindication, accountability, and justice.
About the Author
Laura Zubulake worked on Wall Street for twenty years marketing global convertible and derivative securities, and equity-related product on Asia-based companies to U.S. institutional investment funds. In 1991, her book The Complete Guide to Convertible Securities Worldwide was published by John Wiley & Sons. In February 2002, she became a plaintiff and was intimately involved in all aspects of her case making key decisions throughout litigation including EDD. For more information about Zubulake's e-Discovery: The Untold Story of my Quest for Justice, visit http://www.LauraZubulake.com.