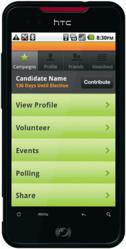 These improvements are happening just in time for the 2012 elections.
Bradenton, FL (PRWEB) August 21, 2012
VoterBuzz, the nation's first mobile application focused exclusively on politics, has just released a new round of upgrades that improve its convenience and accessibility.
Two enhancements are focused on improving voters' ability to stay informed about campaigns in their area. The first new feature provides push notifications to all campaign followers about each new event, photo or video posted by a campaign or organization.
The second improvement automatically sends out notifications to all VoterBuzz users within a 10-mile radius, regardless of who they are following, whenever a campaign or organization joins on as a new subscriber.
Two other improvements are directed toward campaigns and organizations. One involves the polling feature, which used to be controlled by an outside source and is now self-contained within the VoterBuzz app.
The second features an improved content management system that makes it easier for subscribers to upload information.
"These improvements are happening just in time for the 2012 elections," says VoterBuzz President Andrea Torkelson. "We are continuously upgrading VoterBuzz to better meet the grass-roots campaign needs of political candidates and organizations."
VoterBuzz's biggest enhancement of all is just around the corner: by the end of September, VoterBuzz will release a desktop version of its mobile app. The desktop version will vastly expand VoterBuzz's accessibility to voters, making it available to the millions of people who still are not using smartphones on a regular basis.
"Our primary focus remains on mobile campaigning, which is the future of politics," Torkelson says. "But we also want VoterBuzz to be useful right now to those who aren't yet riding the mobile wave."
Created by Torkelson based on her 10 years of political consulting experience, VoterBuzz is the most comprehensive mobile app for politics on the market today. It empowers campaigns and political organizations to publicize events, gather contributions, recruit volunteers, and share news and developments about their campaign, all through one app. Voters can follow as many campaigns as they choose, contribute, volunteer and share information with other voters.
Available on Android, iPhone and iPad platforms, VoterBuzz is free for voters to download. Political campaigns can subscribe for as little as $10 a month.
To learn more about VoterBuzz, go to http://www.voter-buzz.com or call Torkelson at 855-987-BUZZ (2899).