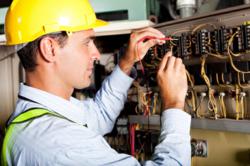 5 Stars for BK Electric Services. I found them to be a great company to work with and their workers were extremely professional
Los Angeles, CA (PRWEB) November 09, 2012
The chief executive officer of BK Electric Services, an electrician in Brentwood, today announced an update to the corporate website which includes new pages serving Burbank, West Los Angeles and Brentwood. The new website features a cool looking 'Hot Deal' coupon on recessed lights to alert visitors of the special and adds a special touch to the color theme.
The company also improved the website's navigation so it's easier for site visitors to find information. A big button on the top right corner of the site leads to the company's blog and further down the site visitors may find buttons to Angie's List and Google Places reviews. One of the principals at BK Electric said, "We have a lot of very good reviews both on Google and Angie's List and we don't mind sharing them on our website."
Homeowners who are looking for an electrician in Burbank will find a page on the website with information on the company's services as well as tidbits of information on the city. On the Burbank page site visitors will also find current company projects and a link to the company's blog archives which dates back to October of 2010.
"5 Stars for BK Electric Services. I found them to be a great company to work with and their workers were extremely professional. I needed someone to install lights and when I called their office they set up an appointment for me right away. Once they got to work, the electricians made a lot of useful suggestions and they also made recommendations that improved the overall project." – Joanna Thornton
BK Electric Services has been in business for decades as an electrician in West Los Angeles and the company continues to grow at a steady pace. One of the things which has helped the company acquire new business is word-of-mouth advertising. In fact, most new business is a result of a direct referral from another client which is something no amount of paid advertising can achieve. The company's CEO said, "We get most of our work from referrals and we strive to make sure our customers are happy with our work."
About
B.K. Electric Services is a family owned and operated business. We are constantly striving to be the premiere professional and full service electrical contractors in Southern California. We are dedicated to provide customers with innovation, supreme and indispensable services, resulting in continuing relationships, satisfied customers and expansion of operations.
Contact
B.K. Electric Services
14320 Ventura Blvd Suite #240
Sherman Oaks, CA 91423
Phone: 310-430-2300
Email: info(at)bkelectricservices(dot)com
Website: http://bkelectricservices.com/