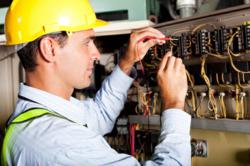 We are dedicated to providing all our customers with innovative solutions and indispensable services which result in continuing business relationships where both companies profit
Los Angeles, California (PRWEB) November 16, 2012
Unique Web Consulting chief executive officer Barak Granot today announced the completion of a new website for electric contractor B.K. Electric Services. The Burbank electrician is a provider of equipment and services for electric power systems with a vision to be a dominant player in the electrical services industry both locally and nationally.
Mr. Granot said, "We are in sync with B.K. Electric's goals and with the new website we're well on our way to helping the company achieve national prominence". B.K. is a family owned and operated business that's constantly striving to be the premiere professional, full service electrical contractors in Southern California. The company is extremely well-known in California and the executive leadership team hopes to capitalize on its popularity to achieve a national customer base.
One of the principals at B.K. Electric Services said, "We are dedicated to providing all our customers with innovative solutions and indispensable services which result in continuing business relationships where both companies profit." The company's mission statement is "To deliver exceptional value to our customers, employees, and vendors and to provide employees trained in a systems environment allowing them to be the best that they can be each and every time."
The electrician in Brentwood hopes to be every customer's first choice for all their electrical needs for both residential and commercial accounts. The company's chief executive officer said, "We specialize in high voltage wiring and complete electrical systems rewiring and we're expanding our service offering to be able to compete on a national scale."
The new website hosts a blog which will be used to publish how-to articles for homeowners who prefer a do-it-yourself approach instead of hiring an electrician. Working on electrical systems can be extremely dangerous but with the right how-to-guide, a homeowner can learn how to perform basic tasks such as installing new wires for a light fixture or removing then installing new wires to dedicated systems.
About
Unique Web Consulting is an LLC registered in the states of California and Florida and operates nation-wide. It is managed from Los Angeles, California, but our team members are spread across 3 continents. The internet and technological advances have allowed us to shorten the geographical distance and find the best people for the job even if they are far away.
Contact
Unique Web Consulting
12501 Burbank Blvd, Ste 4-240
Los Angeles, CA 91607
Phone: (800) 651-5818
Website: http://www.uniquewebconsulting.com/