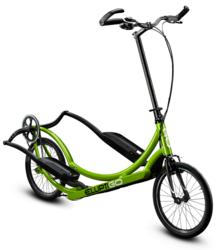 The ElliptiGO will be useful, practical, and fun for us.
San Diego, CA (PRWEB) January 31, 2012
ElliptiGO, Inc. (http://www.elliptigo.com), creators of the world's first elliptical bike, today announced their partnership with the 88bikes Foundation (88bikes.org). Launching their sixth and most ambitious project this year, 88bikes aims to endow thousands of bicycles to children around the world who have been rescued from slavery and abuse. In 2012, the 88bikes volunteer staff will ride ElliptiGOs as they travel from village to village, delivering bikes to children, and leading them on group rides.
88bikes was started in 2006 to raise enough funds to give bikes to the 88 children at the Palm Tree Orphanage in Phnom Penh, Cambodia. After exceeding their fundraising goals in just 2 weeks, the 88bikes founders expanded their fundraising goals and identified new beneficiaries. Over the past five years, they have donated more than 2,000 bikes to children around the world. In addition, 88bikes provides them with bike maintenance training, safety workshops, group bike rides, and bike-based job skills.
"The 88bikes volunteers spend a lot of time on their own bicycles, too," said Dan Austin, Co-Founder and Executive Director of 88bikes. "We use them for traveling between villages, daily transportation, and leading group rides." Dan happened to try out an ElliptiGO in 2011 and immediately realized what an advantage it would be for the staff to ride ElliptiGOs during their trips.
"We lead groups of up to 200 children on rides, so it will be really helpful to be taller than the kids when we're riding," said Austin. "They'll be able to see us and we'll be able to keep track of them better." Due to the extended time they spend sitting on bike seats, Dan also anticipates ElliptiGOs making travel more comfortable for their staff, since they will now ride in an ergonomically-friendly, upright position and won't feel the pain of a bike seat. "The ElliptiGO will be useful, practical, and fun for us."
Designed by runners, the ElliptiGO is the first outdoor, low-impact, fitness device specifically engineered to emulate the running motion. It allows athletes and fitness enthusiasts of all levels to get a high-intensity workout without experiencing the repetitive impact of running or the discomfort of the traditional cycling position. Comfortable, fun and easy to ride, the ElliptiGO is ideal for taking on endurance rides and longer journeys, like the 88bikes volunteers will this year.
"We were so pleased that Dan contacted us to be a part of their 2012 initiative," said Bryan Pate, Co-Founder and Co-President of ElliptiGO. "With the simple concept of providing bikes to children in need, 88bikes is doing some truly meaningful work around the world and we're proud to support them in their efforts to bring health and happiness to these kids."
For more information about the 88bikes Foundation and the 2012 Asha Project, visit their website: 88bikes.org.
For more information about ElliptiGO and its products, visit http://www.elliptigo.com or follow them on Twitter @elliptigo and Facebook at http://www.facebook.com/elliptigo.
About ElliptiGO
ElliptiGO, Inc. is a San Diego-based company that created the world's first elliptical bicycle. By modifying the elliptical trainer motion and combining it with the functionality of a bicycle, the ElliptiGO® line of bikes delivers a high-performance workout experience that closely mimics running outdoors while eliminating the impact. Elliptical biking is an effective way to build cardiovascular fitness without aggravating injuries, and a great alternative for people who can no longer run because of degenerative conditions. For everyone from the weekend warrior to the elite athlete, the ElliptiGO provides the most comfortable, fun and efficient way to get outside and be active. The full line of ElliptiGO® bikes is available for purchase at select retailers nationwide and through the company's website: http://www.elliptigo.com.
About 88bikes Foundation
88bikes (88bikes.org) was founded in 2006 by writer and filmmaker Dan Austin, designer Nicolas Arauz, and pediatrician Jared Austin with a very simple goal: To provide a sustainable, joyful, empowering form of transportation to young people in developing countries, in situations where these children have been challenged to be their own heroes due to war, conflict, poverty, disease or other hardships. Since the launch of their first fundraising project and the donation of 88 bikes to the Palm Tree Orphanage in Phnom Penh, Cambodia, 88bikes has endowed more than 2,000 bikes to children around the world who have been rescued from slavery and abuse.
Media Contacts:
Erika Nelson
erika(at)elliptigo(dot)com
858.876.8677
###