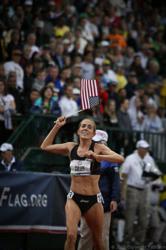 Eugene, OR (PRWEB) July 16, 2012
The ElliptiGO Project, a group of elite runners focused on using innovative training tools and techniques to improve performance, today announced that ElliptiGO Project Member and 2011 U.S. Road 5K Champion Julie Culley will be representing the United States at the 2012 Olympics in London. Culley earned her spot on the Olympic 5,000-meter Team by winning the Women's 5,000-meter Event at the Olympic Trials.
Reflecting back on her path to the 2012 Olympics, Culley believes that staying healthy was the key to her success. "I've had my best year ever leading up to the Olympic Trials," remarked Culley. "I've managed to avoid injury, which has allowed me to train at a higher level for longer. Listening to my body and using cross-training to fill in the gaps, has been key."
An inaugural member of The ElliptiGO Project, Culley has purposefully incorporated cross-training on the ElliptiGO into her training routine with the goal of getting faster while avoiding injury. "I use the ElliptiGO to get a workout in, stretch my legs, and get the blood flowing on days when I'm not scheduled to do any running or impact activity. On my long run days, I get on the ElliptiGO to add on additional miles without putting the extra miles on my legs. Especially if my form starts to break down or when I'm trying to build my mileage up, it's a gateway to getting the time in without the draining effects of those last few miles."
Her new training strategy paid off at the Trials. Culley took second place in her preliminary heat to easily secure a spot in the finals, where she took the lead on the last lap and never looked back. "It's important to work hard, but be wary of teetering on the edge of pushing too hard, which can lead to injury or illness," said Culley. "I believe the sooner you can recover and prepare your body for the next workout, the quicker you will progress and I'm very excited that my preparation will allow me to continue my Olympic journey in London this summer."
Joining Culley in the 5K finals were fellow ElliptiGO Project members Magdalena Lewy Boulet and Lauren Fleshman. Boulet was a member of the 2008 U.S. Olympic Marathon Team and Fleshman is a two-time US National Champion at the 5,000-meter distance. They share Culley's philosophy of incorporating innovative tools into their training to achieve the dual goals of improved performance and a lower likelihood of injury.
The ElliptiGO Project is currently recruiting elite runners with ambitious goals who are interested in exploring innovative new ways of getting faster and staying healthy. To join the Project, athletes are required to have achieved a significant running milestone, be pursuing an inspiring running-related goal, and want to authentically integrate new training tools and techniques in order to help them achieve that goal. In addition, athletes must be willing to share their training and results with other members of the team. For more information about The ElliptiGO Project, visit the website at http://www.theelliptigoproject.com.
About The ElliptiGO Project
The ElliptiGO Project exists to make runners faster through innovation. It is currently growing membership, adding new innovative running tools, and affiliating with other organizations that share the same goal of improving athletes' performance through innovation. The Project tests new training techniques through competition, both on the track and on the road, and reports its findings with candor. http://www.theelliptigoproject.com
# # #