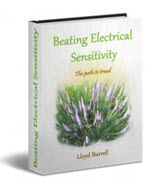 The first step is to significantly reduce your EMF exposure. But.....EMFs are not the sole and unique cause of electrical sensitivity.
(PRWEB) December 18, 2012
35 year old Lloyd Burrell used his cell phone like everybody else. Running a small business, having a cell phone made a lot of sense. It allowed him to make calls while out of the office and meant he could get a lot more done in a day.
Cell phone radiation and electrical sensitivity? Frankly, it just didn't interest him. He lived in blissful ignorance of what dangers he might be exposing his body to.
Then one bright winters day in February 2002 his cell phone rang. He reached to take his phone out of his jacket pocket and answer the call. Within a few seconds of putting the phone to his ear he felt an unpleasant sensation on the side of the head he was holding his phone. Before he could even finish his call this unpleasant sensation had turned into a sharp pain.
A few calls later the pain from only a brief conversation became so intense he had to stop using his cell phone. Within a matter of days other previously innocuous electrical devices started to have the same effect on him.
Day long blinding headaches became the norm. These weren't normal headaches he was experiencing; Lloyd Burrell says "it felt as though my head was being held in a vice".
A whole host of other symptoms appeared; dark circles under his eyes, he acquired a permanent metallic taste in his mouth. No matter how many hours he slept, he woke feeling just as tired.
His doctor could not find anything wrong with him. He diagnosed it as stress. He went for scans, tests and saw a long list of specialists, neurologists, psychologists, physiotherapists. But as far as the medical community was concerned his illness did not exist.
And yet his condition continued to deteriorate. Not only cell phones but computers, cordless phones, electric lighting, TVs, cars all made him feel sick. Public places soon became off limits. Buses, trains and other forms of transport were impossible.
Lloyd soon realized his body was reacting to exposure to electromagnetic fields (EMFs)and that what he was experiencing had a name; "electrical hyper sensitivity" or electrical sensitivity (ES). Studies show electrical sensitivity impacts people in a variety of ways, chest pains, breathing difficulties, pulse and blood pressure changes, headaches, sleeping, memory, cognitive problems, fainting, nausea, pain in the ears, nerve problems in the eyes and skin rashes are just some of the symptoms experienced.[1]
In the absence of a response by the medical establishment, Lloyd Burrell set about looking for a solution to his symptoms and found it. 'Beating Electrical Sensitivity - The Path to Tread' takes readers on a complete journey of the author's trials, tribulations and successes over the last 10 years in finding relief from electrical sensitivity. As Lloyd explains: "If you are experiencing a reaction to cell phones and other electronic devices, there are a number of things you can do. The first step is to significantly reduce your EMF exposure. But don't be mistaken, EMFs are not the sole and unique cause of electrical sensitivity. Effectively dealing with this condition can be achieved by adopting a holistic and natural approach. This requires examining every aspect of your personal environment and implementing nutritional, environmental and energetic solutions."
"If you are sitting on the fence about whether exposure to EMFs is bad for your health this is not the book for you." As Lloyd says "I wrote this book to help people who are already suffering from the adverse health effects of exposure to these technologies…I wrote it so that they didn't have to suffer like I did."
Lloyd Burrell's ground breaking eBook lays out a step by step approach to getting one's life back on track. It leaves the reader in no doubt that it is possible to successfully "beat electrical sensitivity" and still live in the modern world and pursue one's personal dreams and ambitions.
For exclusive information about 'Beating Electrical Sensitivity', Lloyd Burrell has made available 3 free chapters. To obtain your free chapters go to http://www.electricsense.com/3-free-chapters.html
[1] Genuis SJ, Lipp CT, Electromagnetic hypersensitivity: Fact or fiction? Sci Total Environ (2011), doi:10.1016/j.scitotenv.2011.11.008
About The Author
Lloyd Burrell became electrosensitive in 2002. Since 2009 he has been raising awareness on the dangers of electromagnetic fields and proposing solutions. He has created a video series outlining 'how to beat electrical sensitivity' see http://www.electricsense.com/4210/beating-electrical-sensitivity-part-1/