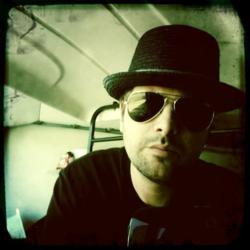 ..."I see all the time, people coming together from around the world and sharing their dreams through music, art, and fashion."
os Angeles, California (PRWEB) April 22, 2012
L: A fashion mash-up of pumping music, technology, lifestyle, and social media will hit the runway on Saturday, April 28 in Los Angeles. Hollywood red-carpet designers, Eduardo Lucero and Jared Gold will appear at the Woodbury University 48th Annual Fashion Show along with Nic Adler, Owner of The Roxy and IMPACT Award recipient for his contributions to music, fashion, and culture.
Designer, Eduardo Lucero has dressed the glitterati and Jared Gold has placed his signature creations on music and celebrities as well. They will be on hand to present their first-year young talent who personify the new breed of designers bubbling out of Southern California. Partly due to L.A. now being the largest apparel industry market in the country, a fashion trend is being propelled by young, multi-ethnic, urban designers and entertainment events like the Coachella Festival near Palm Springs April 14 – 22. Then toss in music, art, and lifestyle emissary, Nic Adler, owner of The Roxy on the Sunset Strip and one has the perfect alchemy for a whole new breed of designer/artist/tech geek inspired culture.
"More fashion is produced in L.A. than anywhere in the U.S. and we have a greater variety of cultural influences from around the world including Latin America and Asia, but what we also have here is the "democratization" of fashion," said red-carpet fashion designer, Jared Gold and mentor in Woodbury's Fashion Department. "Today, young people embrace a fusion of technology, art, and style that they make, share on social media, and sell. Fashion creation is accessible to anyone. All you need is imagination."
A new element more important than main stream trend spotting, social media now provides a window into lifestyles and subcultures. "There is so much data that you need to take a step back and listen," says fashion forecaster and Assistant Professor, Wendy Bendoni, with the Woodbury University Fashion Marketing Department. Her detective work involves keeping an attentive eye on what is happening in art and music across Alternative, Electronica, R&B, Hip-Hop, Rap, Dance or World genres. "I search photos of girls at the weeklong Coachella Music Festival and other subculture events. I look at the self-portraits they post on Facebook, Instagram, or Pinterest and imagine the story they are telling about themselves. It's about lifestyle, conversation, and monitoring. This is the information my clients want.
Nic Adler's first-hand experience with young music fans who fill The Roxy confirms Woodbury's research. "Their students reflect what I see all the time, people coming together from around the world and sharing their dreams through music, art, and fashion." Woodbury junior fashion/social media student, Maria Cavallari is of the same cloth, as they say. "Whether fusion or mash-up, in fashion, you can do anything."
Fashion followers will be able to see this new generation of socially connected, student designers at Woodbury University's 48th Annual Fashion Show "Sampling: A Creative Mash-up of Music and Fashion" Millennium Biltmore Hotel, Los Angeles, CA, Saturday, April 28, 2012 5:30pm. Details and Reservations available here.