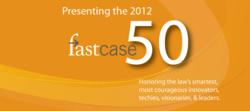 "We deeply respect and celebrate the contributions of these individuals for advancing our industry and having an impact on shaping the future of law." ~ Ed Walters
Washington, DC (PRWEB) July 20, 2012
Legal publisher Fastcase today published the list of winning recipients of the annual "Fastcase 50" award. The Fastcase 50 award recognizes the smartest, most courageous innovators, techies, visionaries, and leaders in the law.
Nominations were submitted by industry leaders, law firm managers, legal technology peers, and individuals around the world who recommended candidates deserving of this recognition.
"This is one of our favorite events of the year," said Ed Walters, CEO of Fastcase. "We get to recognize our heroes, the great thinkers, creators, and risk-takers who make this such an interesting time to work in legal tech. Some of the winners are well known, but others deserve to be better known. And today we take a moment to recognize them."
This year's awardees are a diverse group of judges, lawyers, teachers, general counsel, law librarians, hackers (in the good sense, of course), and disruptors.
Congratulations to the following Fastcase 50 award recipients:
Ruthe C. Ashley, Founder and President, Diversity Matters
Josh Auriemma, Associate, The McShane Firm, LLC
Mary Alice Baish, Assistant Public Printer, Superintendent of Documents, U.S. Government Printing Office
Tom Boone, Reference Librarian, Loyola Law School
Mark Britton, Founder and CEO, Avvo
Susan Cartier Liebel, Founder and CEO, Solo Practice University
Greg Castanias, Global Library Partner, Jones Day
David Drummond, Senior Vice President and Chief Legal Officer, Google
Jason Eiseman, Librarian for Emerging Technologies, Yale Law School
Tom Fleming, Director of Information and Resources Management, Jeffer, Mangels, Butler & Marmaro LLP
Jerry Goldman, Research Professor of Law at IIT Chicago Kent; Director of Oyez Project
William S. Hein, Jr., CEO, William S. Hein & Co
Matt Homann, Founder, LexThink
Denise Howell, Lawyer, Blogger, and Host of This Week In Law (TWiL)
Waldo Jaquith, Emerging Technologies, Yale Law School; Founder State Decoded
Jane Kinney Meyers, Founder, Lubuto Library Project
Rick Klau, Partner, Google Ventures
Marcia Koslov, Executive Director, Los Angeles Law Library
Mitchell Kowalski, Author and Sole Practitioner
Dahlia Lithwick, Senior Editor and Writer, Slate
Peter Martin, Dean Emeritus, Cornell Law School; Co-founder, Cornell Legal Information Institute
Elmer Masters, Director of Internet Development, CALI
Mark Mathewson, Director of Publications, Illinois State Bar Association
Erik Mazzone, Director of the Center for Practice Management, North Carolina Bar Association
Kyle McEntee, Executive Director and Co-Founder, Law School Transparency
Michael Mills, CEO, Neota Logic
Jeff Richardson, Partner, Adams and Reese LLP; Blogger, iPhoneJD.com
Jack Newton, CEO and Co-founder, Clio
Mark O'Brien, Co-Founder and Executive Director, Pro Bono Net
Sabrina Pacifici, Founder and Editor, LLRX.com; Blogger, beSpacific.com
Larry Port, Co-founder and CEO, Rocket Matter
Michael Poulshock, Policy Automation Consultant, Oracle
Keith Rabois, Chief Operating Officer, Square
Hon. Jed Rakoff, Judge, U.S. District for the Southern District of New York
Kathleen Richman, Executive Director, Law Library Microform Consortium (LLMC)
Tanina Rostain, Professor of Law and Research Director of the Center for the Study of the Legal Profession at Georgetown Law Center
Ed Scanlon, Founder and Chairman, Total Attorneys
Sarah Schacht, Founder and CEO, Knowledge As Power; Founder and Chair, Open Gov West
David Schnurman, President, Lawline
Daniel Schwartz, Member, Pullman & Comley, LLC; Blogger, Connecticut Employment Law Blog
Bruce Sewell, Senior Vice President and General Counsel, Apple
Robert Shapiro, Lawyer; Co-founder, LegalZoom
Roger Skalbeck, Associate Law Librarian for Electronic Resources & Services, Georgetown Law Library; President of LLSDC
Regina Smith, Executive Director, Jenkins Law Library
Richard Susskind, Author; President, Society for Computers and Law
Reid Trautz, Director, American Immigration Lawyers Association's Practice and Professionalism Center
John Tredennick, CEO, Catalyst Repository Systems
Todd Vincent, President and CEO, XML Legal
Leah Ward Sears, Partner, Schiff Hardin LLP; former Chief Justice, Georgia Supreme Court
Jason Wilson, Vice President, Jones McClure publishing; Blogger, Rethink.com
Fastcase 50 recipients will be celebrated during the American Association of Law Libraries (AALL) annual meeting July 21-24 in Boston, Mass. The keynote speaker, Richard Susskind, is a 2012 Fastcase 50 winner who will be discussing the commoditization of legal services and elaborating on two concepts that will shape the future of the legal profession - decomposing and multi-sourcing.
To view profiles of each of the winners and to learn more about the Fastcase 50 award, visit http://www.fastcase.com/fastcase50-winners-2012/
About Fastcase
As the smarter alternative for legal research, Fastcase democratizes the law, making it more accessible to more people. Using patented software that combines the best of legal research with the best of Web search, Fastcase helps busy users sift through the clutter, ranking the best cases first and enabling the re-sorting of results to find answers fast. Founded in 1999, Fastcase has more than 500,000 subscribers from around the world. Fastcase is an American company based in Washington, D.C. For more information, follow Fastcase on Twitter at @Fastcase, or visit http://www.fastcase.com.
###