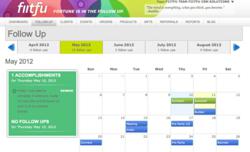 Focussing on our accomplishments is a great way to empower, motivate and keep your business moving forward...
Burnaby, British Columbia (PRWEB) May 14, 2012
In the fast pace world of computers, cyber space messaging and texting, staying on the move and connected is a given. The number of tasks that are completed each day can be staggering and hard to track as some may be larger then others.
According to Statistics, extrapolations and counting by Radicati Group from April 2010 estimate the number of emails sent per day (in 2010) that are NOT spam or viruses to be 247 Billion.
That is a lot of questions to be answered by busy professionals.
Fiitfu CRM Solutions just last week launched their "success tracker" to show users the success that they have had, not so much in sales dollars but instead in income producing activity.
"We introduced the 'Success' element to Fiitfu so that our users can feel GOOD about what they have accomplished in a day," says CEO Mary-Jane Mehlenbacher "professionals, especially women, can focus to much on what we didn't get done, which can be a real downer. Focussing on what we did accomplish is a great way to empower, motivate and keep moving someone forward in their business, and this is what we are all about at Fiitfu."
About Fiitfu: Fiitfu is a web based Customer Relationship Management program designed for Network Marketers and Small Business Owners. The focus with this software is to ensure that no client falls through the cracks again. Fiitfu which is an acronym for Fortune is in the Follow up is a tool that can be used to not only track clients, but as well enables the users to track referrals, orders, events, expenses and more! With clients in the US, Canada, Australia and the UK they are focussed on enhancement of their product and growth of their client base.