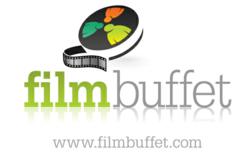 Movie fans enjoy a chance to win a $50 Fandango Gift Card in a Twitter contest by the movie social site, Filmbuffet.
New York, NY (PRWEB) March 06, 2012
Filmbuffet, a social site for movie fans, recently kicked off a contest on Twitter to spread the word about their social networking site to movie fans. As an online movie community, Filmbuffet serves as a gathering place for movie fans to connect with friends and other film enthusiasts, keep track of the movies seen in their lifetime, rate and review films and discover new movies they might enjoy.
As the contest is currently underway, Filmbuffet encourages fans to follow the company on Twitter, in hopes of gaining at least 2,500 followers. One lucky winner will be selected at random and will receive a $50 Fandango gift card. To participate in the contest, individuals simply need to follow @Filmbuffet on Twitter, retweet our giveaway message, which must include the hashtag #FilmbuffetGC and a link to the rules. The contest ends when Filmbuffet reaches 2,500 followers on Twitter or by March 31, 2012 whichever is sooner.
In addition to participating in the Twitter giveaway, movie fans are also encouraged to build their virtual movie collection on Filmbuffet and then share it with friends and families. To keep track of movies watched, film fanatics simply need to log in using their Facebook ID or set up a new account by creating an user ID and clicking on the "Join Now" button. Once logged on, movie lovers can rate and keep track of the films seen. Create a list of movies they plan to see. Meet and connect with friends to discover the films they're watching. Members can also create movie groups built around a particular film genre, movie element or favorite actor.
About Filmbuffet
Headquartered in New Vernon, New Jersey, Filmbuffet brings movie lovers the first social networking and movie cataloging site of its kind. With a blend of talent, ingenuity and business savvy, founders Timothy Stevens and Juan Carlos Martinez brought their creativity and expertise together to bring a new experience to movie fans everywhere. Filmbuffet serves as an online movie community where movie lovers connect to review movies, discuss films and discover new movies to watch. To learn more, visit Filmbuffet.