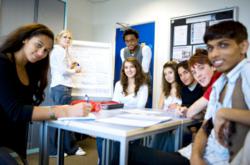 Los Angeles, CA (PRWEB) January 09, 2012
The National Financial Educators Council launches the 2012 version of the Core 80 Financial Literacy Curriculum. This personal financial curriculum includes the Real Money Experience Student Guides, the Money XLive Multimedia learning center, PowerPoint presentation and other tools designed to improve the financial capability of high school and college-age participants.
The Core 80 Financial Literacy Curriculum has over 80 hours of personal financial instruction but was designed in a modular format so it can be segmented into shorter classes to fit a variety of schedules. This curriculum includes eighty different financial literacy lesson plans that were designed by a team of educators, financial education experts and financial professionals from over fifteen industries, including: financial advisors, mortgage experts, credit specialists, student loan experts and others. The goal was to create personal finance lesson plans that can be used in the real world while still meeting educational standards.
The NFEC aligned the curriculum with the financial literacy standards set forth by the National Financial Educators Council, the National Council of Economic Education and the Jump$tart Coalition. It is also aligned with standards set forth by the National Council of English Teachers, the National Council of Teachers of Mathematics, National Business Education Association and the National Council for Social Studies.
The Core 80 Financial Literacy Curriculum Package offers support material for the instructors and participants. It is suggested instructors take part in the NFECs' Certified Financial Education Instructor certification course to improve their ability to teach financial literacy. Educators also can also receive corresponding PowerPoint presentations, pre- and post-testing, Real Money Experience student guides, Money XLive multimedia learning center and other financial literacy resources that provide a turnkey solution.
The NFEC is a social enterprise organization that provides financial literacy curriculum and other personal finance resources to individuals and organizations globally. The NFEC serves concerned citizens, financial professionals, non-profit organizations, schools, and colleges.
###