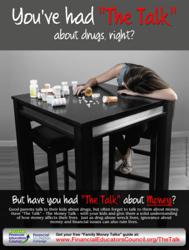 Los Angeles, CAA (PRWEB) May 01, 2012
The National Financial Educators Councils' - The Talk Financial Education Awareness Campaign - relates financial illiteracy to drug use to encourage parents to have 'the talk' with their kids about money. This campaign also provides complimentary material from the Financial EduNation Resource Center to help parents and organizations teach children about money matters that will impact them as they mature.
The National Financial Educators Council's financial education awareness campaign - The Talk - links financial illiteracy to drug use in an effort to demonstrate the serious consequences of not teaching children about money. The campaign is designed to strike an emotional chord with parents, so they open up the lines of communication with their children about important issues like money and drugs.
The copy on the PSA reads: You've had "The Talk" about drugs, right? But have you had "The Talk" about money? Good parents talk to their kids about drugs, but often forget to talk to them about money. Have "The Talk" – The Money Talk – with your kids and give them a solid understanding of how money affects their lives. Just as drug abuse ruins lives, ignorance about money and financial issues can also ruin lives.
Through this Public Service Announcement, the NFEC provides a complimentary copy of the Family Money Talks guide to assist parents who want a step-by-step guide to teaching children about money. A recent Huffington Post article noted, that parents agree that having a "meaningful conversation about money is harder" than having the 'drug talk' with their children. A recent study from T. Rowe Price demonstrated that only 7% of parents said the drug talk was hard to have; however, that number jumped to nearly 20% when parents were asked about how it felt to talk to their kids about money."
The visual design for 'The Talk' financial education campaign were provided by Aaron Meyers Photography. The National Financial Educators Council notes that, Meyers sponsored the campaign because he recognized the consequences financial illiteracy is having on individuals and communities across the country. Meyers states, "I'm glad to be able to contribute to the financial literacy education movement."
The NFEC is a social enterprise organization, and their commitment is to improve the financial capability of people around the world. Through the Financial EduNation Campaign, the NFEC partners with celebrities and positive influential role models to raise awareness for the financial literacy movement. The NFECs' Financial EduNation Campaign provides financial literacy resources, tools and training to assist schools and non-profit organizations to share the message of financial literacy with people in their community.