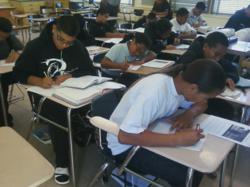 Los Angeles, CA (PRWEB) February 08, 2012
The National Financial Educators Council is donating the Financial EduNation resource center and corresponding financial education services to select non-profit organizations that are seeking to build or improve upon an existing financial education program. As a part of the NFECs' social enterprise business model they have committed to donating a turnkey financial education program to non-profit organizations across the United States.
The Financial EduNation resource center offers practical money management resources, including: financial literacy curriculum, Certified Financial Education Instructor training, parent tip sheets, after-school programs and the Money XLive multimedia learning center that features exclusive celebrity videos. Over 30 resources in all that provide parents, educators and community groups the tools designed to improve the financial capability of the youth they serve.
The Financial EduNation campaign also seeks to help non-profit organizations raise funds, awareness, and secure volunteer support. The NFEC provides all the Financial EduNation tools complimentary and assists the organizations, so they maximize the impact of the program.
To build community support and parental involvement the Financial EduNation also includes free personal finance resources for teachers and parents. This allows the non-profit organization to pass this information along to select groups to increase the reach of their efforts. According to Cecile Abad of the NFEC, "We encourage our non-profit partners to share this with other groups they work closely with, or have a desire to work with, in an effort to promote larger collaborate outreach campaigns that can impact more in the community."
The Financial EduNation campaign also focuses on raising awareness about the financial literacy movement. The NFEC has enlisted support from top celebrities, business leaders and athletes to participate in a local and national outreach campaign. The non-profit partners play a key role in bringing this campaign to the grassroots level as they provide valuable financial education services to the community.
The NFECs' Financial EduNation campaign is designed to prevent future generations from going through stressful financial circumstance at a time when the majority of citizens across the country are struggling financially. Non-profit organizations concerned with helping the youth they serve to avoid personal financial problems are encouraged to contact the NFEC and to share the resource.
The Financial EduNation campaign was started by the National Financial Educators Council to improve the financial capability of youth across the country. The NFEC has partnered with non-profit organizations across the country to provide financial education services and products. The NFEC's social enterprise business model ensures that complimentary resources are made available to organizations that want to teach personal finance.
###