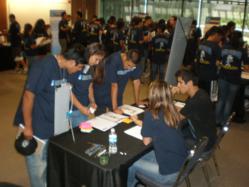 Erie, PA (PRWEB) February 01, 2012
The National Financial Educators Council (NFEC) and the Center for Financial and Consumer Outreach at Penn State Erie, The Behrend College, have created a partnership to promote financial literacy throughout Pennsylvania. This statewide financial literacy initiative, which began on February 1, 2012 provides free personal finance resources to schools and non-profit organizations.
The financial literacy resources form part of the NFEC's Financial EduNation campaign, a national financial literacy initiative that seeks to improve youth financial capability while raising awareness about the importance of teaching kids about money. The campaign provides more than 30 tools designed to give youth a practical financial education. The NFEC has created personal finance programs that parents, educators, community members and financial professionals can share with their community's youth.
The Financial EduNation resource center also includes materials aimed directly at teens and young adults. Students are provided access to the Money XLive multi-media learning center. This virtual training program features exclusive videos from celebrities, business leaders, and sports stars. Other features include quick notes, guides, online testing and interactive tools.
"We chose to provide NFEC educational resources as part of our outreach in Pennsylvania because it balances practical application with core educational standards," Erica K. Jackson, director of the Center for Financial and Consumer Outreach, said. "The comprehensive financial educator training program will help us empower those delivering the information with the tools necessary to maximize the effectiveness of the coursework."
"The NFEC commends the Center for Financial and Consumer Outreach for its efforts to promote financial literacy to citizens across the state of Pennsylvania," said Vince Shorb, chief marketing officer of the NFEC. "Its commitment to providing comprehensive financial literacy resources to the community empowers our youth and strengthens communities."
The Center for Financial and Consumer Outreach (CFCO) is an outreach program of the Sam and Irene Black School of Business at Penn State Behrend. The CFCO's primary purpose is to deliver educational outreach programming focused on personal finance skills to students in middle school through college. The center's efforts have reached more than 25,000 individuals with materials that teach how to earn a living, achieve self-sufficiency, and improve quality of life.
The NFEC developed the Financial EduNation campaign to foster positive personal financial habits among youth. The NFEC is a social enterprise organization dedicated to giving communities the resources they need to empower young people with the knowledge necessary to make financial decisions that can improve their lives, now and in the future.
###