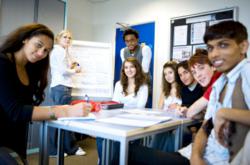 Los Angeles, CA (PRWEB) January 26, 2012
The National Financial Educators Council (NFEC) is searching for experienced financial professionals (advisors, real estate professionals, insurance representatives, educators with personal finance knowledge, etc.) that want to share their personal finance knowledge with youth to take part in the Financial EduNation financial literacy campaign.
The NFECs' Financial EduNation campaign is a nationwide financial literacy initiative that seeks to improve the financial capability of youth. This campaign provides free personal finance resources to schools and non-profit organizations. The NFEC has received requests from many of the organizations that have received the complimentary financial education material for speakers to deliver the presentations.
"We have had an overwhelming positive response to the Financial EduNation complimentary resource center; however, many of our schools and non-profits lack the personnel to deliver the presentations. We want to help connect those organizations that have a desire to empower the youth they serve with qualified personal finance speakers who have a passions to share their knowledge with our youth," says Vince Shorb CMO of the NFEC.
The Financial EduNation campaign also provides qualified organizations access to a personal finance resource center that provides over thirty tools designed to give youth practical money management knowledge including material for: parents, educators, community members, financial professionals and students.
The Financial EduNation offers resources for teens and young adults that are aligned with their values and interests. Students from select organizations are provided access to the Money XLive multimedia learning center. This virtual learning center features ten different learning modules that include: quick notes, guides, testing and interactive tools. This also features exclusive videos from celebrities, business leaders, and sports stars.
The NFEC is seeking financial professional who have at least five years in the financial services industry or equivalent. Qualified presenters will possess an expert level of knowledge about one or more personal finance topics, and have a passion to share their knowledge with youth across the country. The NFEC provides the material, training and presentations for the personal finance speakers. To learn more about speaking opportunities in your community contact the NFEC.
The NFEC's mission is to create a world where people are financially capable to make sound financial decisions. The NFEC developed the Financial EduNation national financial literacy campaign to raise awareness about the growing financial illiteracy epidemic and provide the free financial literacy resources to schools and community organizations. Through collaboration with financial professionals and industry experts, the NFEC is seeking to help non-profit organizations and schools minimize the time and investment needed to implement their financial education initiative.
###