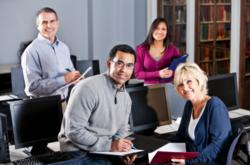 Los Angeles, CA (PRWEB) March 25, 2012
The National Financial Educators Council has selected leading experts to be a part of the financial literacy curriculum advisory board. The 2012 board consist of 20 individuals passionate about sharing their knowledge to improve the financial capability of youth across the country. Additional board members are being sought to participate in this collaborative effort and can submit their application now.
The NFECs' financial literacy curriculum and training programs have been designed by a team of financial professionals and educators to meet core educational standards while offering the 'real world' knowledge to help youth prepare for the financial realities of life. The financial literacy lesson plans are updated each year to incorporate timely information that can impact ones finances. To facilitate each annual update, the NFEC builds a financial literacy advisory board comprised of: financial advisors, Realtors, mortgage specialists, debt experts, personal finance professionals, and educators.
The NFEC has selected six additional financial literacy Curriculum Advisory Board members for 2012. Select members include:

Tony Steuer is an insurance expert and author of the Life Insurance Toolbook. His work received the EIFLE (Excellence in Financial Literacy) Award from the Institute on Financial Literacy. Mr. Steuer is also a member of the California Department of Insurance Curriculum Board.
Ornella Grosz is a personal finance expert and publisher of a book titled, Moneylicious: A Financial Clue for Generation Y. Ms. Grosz has been a featured financial expert for top radio shows in the country; CBS, NBC, ABC, and is a personal finance writer.
Vince Shorb is the CMO of the NFEC, and has over 20 years of investing and financial industry experience. Mr. Shorb reviewed the personal finances of over 10,000 people across the country and was recognized as the 'leading youth financial literacy expert' by the Orange County Register.
Nick Jacobs served five years in credit and housing counseling (at the National Foundation for Credit Counseling) and now works at Credit Abuse Resistance Education (CARE). Mr. Jacobs is dedicated to helping people improve their financial capability and overcome financial challenges.
Natasha Riley-Noah has been active in the financial services industry for over 10 years. Ms. Riley-Noah brings diverse experience to the advisory board with experience in insurance, securities, debt management and financial planning.
Danny Kofke is a teacher of 12 years and a personal finance expert. Mr. Kofke authored two financial books: "How To Survive (and perhaps thrive) On A Teacher's Salary" and "A Simple Book Of Financial Wisdom: Teach Yourself (and your kids) How To Live Wealthy With Little Money."
The NFEC credits the success of the personal finance curriculum with the advice provided by brining educators and financial professionals together. The Chief Marketing Officer of the NFEC, Vince Shorb states, "The NFEC advisors are a tremendous asset, and they help us to ensure our curriculum provides 'real world' financial literacy knowledge while meeting educational standards. This satisfies the needs of the educators we serve and provides our students the life skills that can improve many areas of their life."
Advisory board members that are approved possess an expert level of knowledge about personal finance topics. They share the NFEC's desire to improve the financial literacy knowledge of the youth nationwide. Curriculum advisors review small portions of the NFEC's financial literacy lesson plans. Board members add ideas and comments to assist in refining the high school financial literacy curriculum. Financial professionals, personal finance experts and educators may visit the curriculum advisor board webpage for more information.
The NFEC is a social enterprise organization with the mission to empower people with the financial education knowledge needed to make effective financial literacy decisions that improve their lives and the lives of people they love. The NFEC's collaboration with educators and financial professionals helps make the financial literacy curriculum practical for the youth that receive instruction.