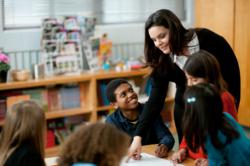 Los Angeles, CA (PRWEB) February 15, 2012
The National Financial Educators Council launches the Core 12 Financial Literacy Curriculum and Certified Financial Education Instructor Training Package to provide organizations turnkey solutions to their financial literacy needs. Also contained within the financial literacy package are PowerPoint presentations, the Money XLive virtual learning center, Real Money Experience student guides, parent education material and personal finance measurement tools.
The stated goal of the newly released financial literacy curriculum package is to reduce the time and costs associated the development of a personal finance program so organizations can reach more youth – junior high through college – with practical money management skills. The main objective is to improve the financial capability of today's youth so they avoid common fiscal traps that trouble many people.
The NFEC aligned the Core 12 financial literacy curriculum to meet educational standards – core coursework and financial education standards. This coursework was developed by the NFECs' Curriculum Advisory Board which consists of award-winning educators, recognized financial education experts and financial professionals. Together the curriculum development team has reviewed the personal financial statements of over fifty thousand people, and they educate million of people annually. The objective was to create a financial literacy curriculum and training package that bridge the gap between educational standards and the real world.
The NFEC points out that a critical element to the financial literacy curriculum package is the Certified Financial Education Instructor coursework. This professional development course was designed to help volunteers, educators and individuals teach financial literacy effectively. "Teaching personal finance is different than teaching any other subject. Each student comes into class with financial habits and emotional ties to the subject. The Certified Financial Education Coursework helps presenters connect with their audience and increase their confidence when delivering the material," says Cecile Abad of the NFEC.
The National Financial Educators Council is a social enterprise organization that supports the work of schools, nonprofit organizations and community groups by reducing the time and expense involved with developing a financial literacy campaign. The NFEC financial literacy curriculum and Certified Financial Education Instructor coursework are two core components of a financial education campaign.
###