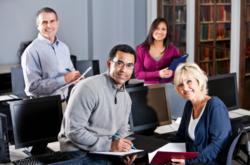 Los Angeles, CA (PRWEB) January 10, 2012
The National Financial Educators Councils' Financial Recovery Coursework addresses the growing personal finance concerns among citizens across the country. The financial literacy for adults program provides organizations and individuals the resources needed to conduct classes, events and financial education workshops.
With recent census data showing that almost 50% of Americans are now classified as low-income or below the poverty line, it increases the need for adult financial literacy programs. The NFECs' Financial Recovery Course provides organizations the training and resources that specifically address the needs of those that have had financial struggles and are seeking to improve their personal finance situation.
The NFEC's launch of the Financial Recovery Course provides financial literacy for adults who have experience financial hardships or that never learned the basic personal finance lessons needed to avoid monetary problems. The program provides organization's financial literacy resources, so they can share the information with those they serve. This includes: Certified Financial Education Instructor training, presentations, financial literacy curriculum, pre- and post-testing, virtual learning center and interactive tools all designed to help participants better their financial state.
This Financial Recovery Program was tested throughout and had passed key short and longer-term measurements. The initial adult financial education workshop participants faced a variety of financial challenges, which included: being unbanked, debt issues, housing problems, lack of savings and the vast majority did not have a financial plan to improve these situations. Upon graduating from the financial literacy for adults program the participants reported they had higher confidence and direction, so they could take action to improve their personal finance situation.
The NFECs' Financial Recovery Program was designed by a team of educators and financial professionals (financial advisors, mortgage experts, debt councilor, attorneys, credit repair specialists and other experts) so the material meets educational standards while being practical in nature so the participants can take immediate action toward improving their financial outlook. This expert panel also contributed to the financial educator training (Certified Financial Education Instructor coursework) to help ensure the presenters are able to teach financial literacy effectively.
The NFEC is a social enterprise organization whose mission is to provide financial literacy for adults and people of all ages and socioeconomic backgrounds. The Financial Recovery Program provides a turnkey solution for those organizations that are seeking to teach financial literacy for adults. The NFEC's financial education programs can be customized to address the specific needs of host organizations and end users.
###