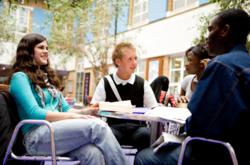 Los Angeles, CA (PRWEB) February 16, 2012
The National Financial Educators Councils' financial literacy for student's packages are now available for organizations seeking to improve the financial capability of youth from kindergarten through college. The NFECs' personal finance packages provide organizations turnkey solutions to their program needs.
The NFEC helps schools, organizations and concerned citizens reduce the cost and time associated with developing programming that delivers financial literacy for students. They have developed comprehensive training and material packages that include: financial literacy lesson plans, presentations, multimedia learning centers, events and educator training courses. The NFECs stated goal is to prepare students for the financial decisions they will face on their own.
According to recent reports, the unemployment figures for today's youth are record-high levels, and many college graduates are suffering the consequences that come along with financial illiteracy. Student default rates are surging, and students are leaving college with over $20,000 in debt on average. The economic and debt situation these students face is negatively compounded because they lack the money management skills to financially plan for their future.
The NFEC's financial literacy for students programs help introduce students to the essential lessons that will impact their bank account. They are designed to proactively address the common issues that young adults are faced with. Leveraging celebrities, sport stars and entertaining delivery methods, the NFEC is able to connect with students and move them to take positive action on their personal finances.
With the current economic situation, many schools, non-profit organizations, colleges, financial professionals who share a passion for creating programs that deliver financial literacy for students are working with the National Financial Educators Council. The NFEC's role as a resource and service provider is assisting the aforementioned by providing turnkey solutions to their financial literacy needs.
The National Financial Educators Council provides comprehensive financial education resources for organizations and individuals globally. The financial literacy for students initiative is helping those that support the development of youth by providing turnkey solutions to their personal finance needs. NFEC programs employ innovations that combine current technology trends with interactive games, creating experiential learning methods. Several of the NFEC brands the Real Money Experience and Money XLive were designed to connect students.
###