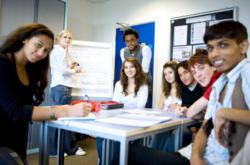 Los Angeles, CA (PRWEB) January 17, 2012
The National Financial Educators Council launches the Real Money Experience financial literacy game that is suitable for the classroom. The personal finance lesson plans and student guide have students making the real world decisions they will face in the future.
The Real Money Experience classroom financial literacy game is based off the NFECs' full-production event whereby students visit twelve separate booths and make financial decisions they will face in the real world. During classroom version of the RMX classroom version, high school and college-age students play 12 separate financial literacy games on topics they are likely to face when they move away from home. Students will complete their personal budgets as they make choices that include: rental decisions, car purchases, insurance options, credit decisions investment and savings options.
"The NFEC creates brands and material that connect with today's youth. Surveys of several hundred students have shown participants have fun playing the financial literacy game. What they may not know is that it meets educational standards," states Traci Allan of the NFEC.
The RMX personal finance game was designed through a collaborative effort of the NFEC Curriculum Advisory Board. Board members are made up of financial professionals, educators and financial literacy experts to ensure the lesson plans meet core educational standards while being practical in nature so it can benefit students in the 'real world'.
The RMX personal finance game was designed to serve high school and college-age students. Educators and volunteers can deliver this to all sizes of audiences; however, the NFEC suggests limiting the class size to 50 students per group or brining in classroom assistants when the class size exceeds the aforementioned number or students.
The NFEC creates and produces practical financial literacy material to improve the financial capability of people globally. The youth financial literacy games provide high school and college-aged youth an engaging learning experience which can improve retention rates and action on the lessons learned. The Real Money Experience personal finance game brings fun, high-energy financial literacy training to classrooms across the country.
###