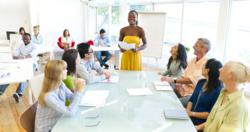 Los Angeles, CA (PRWEB) August 12, 2012
The National Financial Educators Council is expanding and has financial education jobs available for individuals that share a passion for furthering the financial education movement. The NFEC is a personal finance resource provider that offers training, material and turnkey solutions for organizations seeking to improve the financial capabilities of their communities.
The NFEC seeks a variety of individuals that have skills or relationships that will further the stated organizational objectives. The NFEC is currently seeking those to fill: paid positions, and advocate positions.
The financial education jobs offered currently by the NFEC that offer a base pay and bonuses include: promotions and event planner, public relations director, sales director and an executive position. Visit the financial literacy jobs blog to learn more about the paid positions offered nationwide.
The NFEC also seeks to connect with individuals that have developed relationships that align with the clients served by the NFEC. These partnership positions are reported to offer excellent opportunities for those with the right relationships in these respective areas: credit unions, colleges, nonprofit organizations, public schools, private schools, financial advisors, 401(k) administrators and financial professionals in general.
The third group the NFEC seeks to connect with are advocates to join our Financial EduNation Campaign's Community Ambassador program. Everyone is accepted to this group and the Community Ambassadors role is to help the NFEC raise awareness about the financial literacy movement and educate those in the community.
The NFEC has an extensive product line of financial education material, training, events and promotions including: money management curriculum for all age groups, Certified Financial Education Instructor training, workplace financial education programs, comprehensive high school and college financial literacy campaigns, promotions for financial professionals, comprehensive measurement tools, virtual training centers and awareness campaigns.
The main characteristic the NFEC seeks in all the financial education jobs offered is a desire to improve the financial capabilities of people globally while raising awareness for the overall financial education movement. This commitment has brought together a team that will make a lasting impact for millions of people globally.
The National Financial Educators Council set organizational objectives to measurably improve the financial capability of people of all socioeconomic backgrounds and age worldwide. The successful accomplishment of these objectives has lead to the growth and the need to offer financial literacy jobs to accommodate the growth. The NFEC is a social enterprise organization that provides complimentary products or services for each one that is sold.