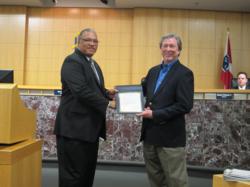 Wichita, KS (PRWEB) April 14, 2012
The City of Wichita, Kansas issued a proclamation that called on all its citizens to observe financial literacy month. Mayor Carl Brewer presented the proclamation to NFEC Community Ambassador, Stan T. Webb for his efforts in bringing better financial literacy awareness and quality programs to the city and surrounding areas.
The proclamation gave background on the history of financial literacy month, mentioned some of the benefits associated with financially capable citizens and laid out a vision for its community. The proclamation specifically mentions, "By working together through education programs for all ages and income levels, we can eliminate or greatly reduce poverty and prepare our future generations for better financial decisions."
Having Webb receive the proclamation aligned with the reasons the NFEC awarded Stan Webb the community ambassador award. "Stan has demonstrated the ability to 'work together' with other organizations and form collaborative partnerships that promoted financial literacy on a wide scope," states the NFEC. Mr. Webb has been able to get many government agencies, companies, banks, credit unions, non profits and well as community leaders, local and state elected officials to jump in on this very important issue of better educating our people on making better financial decisions. The buzz has grown, and financial education initiatives are getting traction in other cities around the state.
Mr. Webb recognized the tremendous help of the steering committee chairpersons, and all the volunteers involved in making this possible. Mr. Webb says, "that without a large community effort it is extremely difficult to reach out and actually touch enough individuals in need, to really make a difference. Making better financial decisions is at the center of how people can enhance their entire life's financial security. I want to help every person, no matter their age or socio or economic backgrounds if I possibly can, so they can prosper and have a better lifestyle and then teach their children what they have done so their children will be even smarter."
Stan Webb, CFS Certified Fund Specialist, President of Stan T. Webb Cos. Inc., and co-founder of the 501(c)3 Minerva Foundation for Financial Literacy. Mr. Webb has hosted financial literacy town hall events throughout Kansas for which he received a city proclamation and shares his financial wisdom with youth across the state.
The National Financial Educators Council is a social enterprise that has partnered with or served hundreds of non-profit organizations and schools to teach children about money. The Financial EduNation Campaign is a nationwide initiative that provides financial literacy resources to groups looking to improve the financial capability of those they serve. The NFEC commends those individuals and organizations that are currently serving the financial literacy movement.