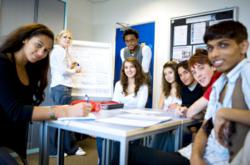 (PRWEB) January 31, 2012
The National Financial Educators Council expands their New York Financial Literacy initiatives with the addition of Somya Munjal being named as State Community Ambassador. Ms. Munjal will lead the NFECs financial literacy outreach efforts in the state and provide personal finance material and resources to community organizations across the state.
The NFEC chose Somya Munjal because of her background as a Certified Public Accountant and her dedication to raise awareness about financial literacy. Ms Munjal's personal mission statement is to enlighten people of all ages about personal finance topics and she states, "My passion is to see my generation and all future generations be in control of their finances and thus live a freer, enjoyable life. I truly believe that proper money management is a vital component to one's psychological and spiritual health."
The NFEC's pasts efforts in New York include hosting an event at the Museum of American Finance and has also co-hosted several events throughout New York. The NFEC has a three-year partnership with the Hip-Hop Summit Youth Council and together the organizations collaborated on personal finance events designed to provide youth throughout the state a practical financial education.
"After our first few events in New York, we have found that financial literacy resonates with many of the community leaders and citizens. They have demonstrated a true passion to share financial literacy with their community, and we are excited to appoint Ms. Munjal as Community Ambassador because she obviously shares their passion for teaching personal finance," states Vince Shorb, CMO of the NFEC.
The National Financial Educators Council is a social enterprise organization whose mission is to improve financial capability of the world's citizens, while increasing awareness about the importance of acquiring personal financial knowledge. The NFECs' Financial EduNation campaign is committed to serving communities that are dedicated to helping its citizens a receive a financial education.
###