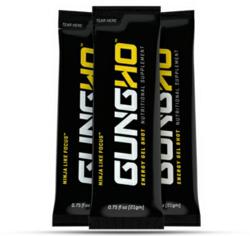 GungHo is the only energy shot or drink that contains natural ingredients at proven effective doses to improve focus & concentration. GungHo will increase levels of critical neurotransmitters in the brain over time. -- Dr Renshaw, Dir, Brain Institute
Salt Lake City, Utah (PRWEB) May 29, 2012
Unique New Claims On Focus
Research from the University of Utah led to a new company called GungHo™ with unique claims on focus. Said Dr. Perry Renshaw, renowned brain health scientist who peer reviewed the GungHo formula:
"GungHo is the only energy shot or drink that contains natural ingredients at proven effective doses to improve focus and concentration. Unlike other energy shots or drinks that deal with short-term energy and no lasting impact on brain energy, GungHo will actually increase levels of critical neurotransmitters in the brain over time," -- Dr. Perry Renshaw, MD, PHD. Former Harvard Professor. Director of Magnetic Resonance Imaging for The Brain Institute at the University of Utah.
Focus Drug Abuse - Utah Students Feeling Pressure
GungHo co-founder, Mason, polled Utah college students and found they principally considered taking energy shots or drinks to ace exams and papers. He then learned from friend Dr. David Hasleton (ER doctor for IHC), that "Adderral® abuse is on the rise in a big way in Utah; kids feeling pressure to do well at school". In fact, a study in the journal, Addiction, found that one out of every four college students nationwide have taken focus enhancing prescription drugs as a study aide.
Where Energy Shots Fail
Mason asked why students turned to illegal addictive drugs rather than energy shots. The answer? They wanted to avoid the typical distractions. "Caffeine cuts both ways. It can reduce performance as well as enhance it." Says Dr. Dan Mowrey. "That is why most energy shots or drinks fail at both ends of your experience. The initial "rush" and "jitters" often disrupt mental focus and performance – the result of critical compositional imbalances that provoke the customary "crash." Finally, Mason sought to find out if there was brand loyalty among the college demographic towards the category leader 5-hour Energy® who owns 90% of the energy shot market. "These kids will not rock a 5-hour Energy t-shirt", he discovered.
A New Focus Gel Shot For The Brain
Ten months later, GungHo was launched. The market for energy drinks is a huge red ocean, but with a differentiated "focus" product, GungHo has shown that young people believe it's worth talking about. Their launch campaign with YouTube personalities moved over 5000 samples in under four hours as college-age fans shared funny Ninja images with friends ("Ninja-Like Focus" is their tagline).
"I've had a prescription for Adderral® for 3 years. I just dropped it and take GungHo now," says UofU student Simon Wright. "While it's not a drug, it gives me the same feeling of calm focus without jitteriness and I feel no crash. Plus I don't feel the pressure in the back of my head or jaw tension that I had on Adderral."
Broad Market for Focus
College students aren't the only group interested. "Mums enjoy the mood lift -GungHo releases beta-endorphines - the "happy hormone", memory recall, no sugar, carbs or carbonation. Plus GungHo is an appetite suppressant", says Mason. "Gamers enjoy the faster reactions with no distractions", he ads. Various consumer groups, it seems, may be going GungHo for GungHo in the near future.
GungHo is an energy gel shot for the brain. It was launched by Go GungHo, Inc. out of Salt Lake City, UT in early 2012. More than simple alertness, GungHo's proprietary blend of ingredients are proven to increase focus, concentration, memory storage, and memory recall, while avoiding the harsh rush, jitters, and crash common with other energy products.