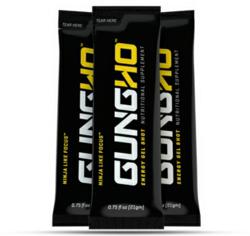 GungHo is the ONLY energy product that contains natural ingredients at proven effective doses to improve focus and concentration. GungHo will increase levels of critical neurotransmitters in the brain over time. – Dr Renshaw, Director, Brain Institute
SALT LAKE CITY - UT (PRWEB) July 03, 2012
Let's face it. Members of the press corps have a tough job. They are required to report the latest news from dozens of different scientific, medical and entrepreneurial arenas. It is, of course, impossible for them to fully understand the often extremely complex details of product research and development. Alas, press releases often contain misleading or even false information. Two questions can help press get at the truth:
1.) Is this study published by a drug company about a potentially competitive dietary supplement (non drug) that claims similar efficacy (great potential for bias)?
2.) Is the study challenging sick subjects or healthy subjects? Are we comparing apples to apples?
A Case Study
An example of this is the recent attempt by the press to present reliable information on the possible usefulness of a new brain nutrient, citicoline. A large, randomized, double-blind study reported that citicoline – as a drug -- was not effective in improving the performance of stroke victims who consumed 1 gram of citicoline per day for 90 days after their stroke. This report seemed to contradict numerous previous studies that suggested that citicoline was good for stroke victims. At the very least, therefore, the usefulness of citicoline for stroke victims in the first 90 days after their stroke has become controversial.
Incorrect Conclusions
It would be a big mistake to conclude that citicoline is not effective for other purposes. Yet that is exactly what some press releases imply, relying for their conclusions on hype from big pharma that would benefit from negative press concerning citicoline being used as a dietary supplement.
Exciting New Research For Healthy Folks Seeking a Cognitive Edge
An exciting recent study in Food and Nutrition Sciences using Cognizin® citicoline (a proprietary, patented form of citicoline) in the form of a dietary supplement has shown that when healthy female volunteers consume less than half the dose used in the stroke study, for just 28 days, their attentional performance (i.e., ability to focus) "significantly" improved compared to placebo. Much pre-clinical work has demonstrated that Cognizin® citicoline consumption alters brain chemistry in precisely the manner that would improve brain function. Teasing out the implications of such research will certainly be a lengthy and arduous task. While 90 days ingestion of 1 gram may not work for stroke victims, perhaps 180 days ingestion of 2 grams will, and who's to say what 6 months use of ¼ of a gram might do for the cognitive health of everyone? Citicoline promises to become a dietary supplement of great usefulness for both healthy and infirm consumers.
GungHo® Has The Right Focus
GoGungHo, Inc had the good fortune of having a relationship with key Cognizin® researchers from Harvard and The Brain Institute at The University of Utah. GungHo developed a patent-pending formulation that provides longer-term focus and memory recall (from Cognizin) plus the immediate alertness and lack of jitters consumers demand – thanks to an ideal blend of caffeine and ashwaganda. Hundreds of their healthy customers are adamant that they focus and recall tasks better.
Remember who published the study. Did the study test the kind of consumption the supplement intends to target? GungHo has reaped the benefit of asking these two questions.
GungHo is an energy gel shot for the brain. It was launched by Go GungHo, Inc. out of Salt Lake City, UT in early 2012. More than simple alertness, GungHo's proprietary blend of ingredients are proven to increase focus, concentration, memory storage, and memory recall, while avoiding the harsh rush, jitters, and crash common with other energy products.