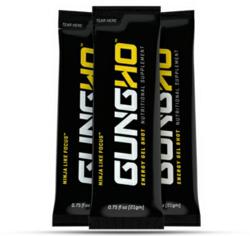 GungHo is a focus supplement built for gamers and promoted by gamers. The way GungHo makes you focused is something I've never experienced before. -- Kurtis Stocks, CEO Team FeaR, National Call of Duty Champions
SALT LAKE CITY, UTAH (PRWEB) September 30, 2012
Caffeine Distraction
"Unleash the beast". Action sports prowess. "Red Bull® gives you wings." Such are the promises of energy drinks. "If by 'wings,' Red Bull meant shaky hands and flighting attention… then yes, I had wings," said Bajheera, pro gamer.
It's more like false hope. "Caffeine cuts both ways. It can reduce performance as well as enhance it," says Dr. Dan Mowry. "That is why most energy shots or drinks fail at both ends of your gaming. The initial rush and jitters, designed for action sports bursts, actually disrupt the mental focus, hand-eye coordination and memory recall that are critical for gamers. Compositional imbalances provoke the resulting "crash."
Other Stimulants Unproven
Energy drinks claim that combining stimulants from B vitamins and amino acids like taurine provides extra energy. Here's the thing about B vitamins in energy drinks: They don't actually work. As the chairwoman of Sports, Cardiovascular and Wellness Nutritionists for the American Dietetic Association said in an interview with the LA Times: "It's brilliant marketing, but it doesn't have any basis." Vitamins B6 and B12, in large doses, have been found to contribute to numbness and tingling in the hands, insomnia; hyperthyroid; and the degeneration of vital organs, such as the liver, kidneys, and nervous system. Good for gamers? Of-course not. Gamers depend on calm nerves and steady hands under pressure.
The physical benefits of taurine have been deemed "scientifically doubtful." Researchers from the University of Wisconsin found that caffeine and taurine together contributed to a marked increase in blood pressure and bradycardia (a potentially dangerous decrease in heart rate). Again bad news for dedicated gamers who often sacrifice physical activities that naturally increase the heart rate. "Simply ingesting caffeine, no matter what kinds of vitamins, amino acids or steroids may be added to it, stimulates just one neurotransmitter category and thereby can promote distracting imbalance," said Dr. Mowry.
Yet "there's good evidence that caffeine is ergogenic," said Dr. Erin Duchan, co-author of a review of the current science about energy drinks for athletes, published recently in The Physician and Sports Medicine. "It can, in the right circumstances, improve athletic performance," she added. So how does one strike the correct balance with caffeine for optimal gaming performance?
Focused On Gamers
A new focus supplement for gamers – GungHo® (Chinese for "work in harmony") claims to provide the balanced increase in mental focus and brain energy that gamers crave. Said Dr. Perry Renshaw, former Harvard professor, Director at the Brain Institute and renowned brain health scientist: "GungHo contains natural ingredients at proven effective doses to improve focus and concentration. Unlike energy products that deal with short-term energy and no lasting impact on brain energy, GungHo will actually increase levels of critical neurotransmitters in the brain over time."
Why care about "focus" and "neurotransmitters" when gaming? While the brain makes up only two percent of a person's body weight, it consumes roughly 20 percent of the body's energy when at rest. When performing difficult mental activities, the brain needs even more energy. Also, "this cognitive boost improves the activity of neuro-hormones that act to offset, even eliminate, the jittery side effects of caffeine while increasing one' ability to maintain focus on the game itself. Mental focus is far more important for success than physical energy, for gamers," said Mowry. "We polled more than 1000 gamers who took energy drinks or shots and asked them 'what they took the energy drink for'. Four out of five wanted to focus or concentrate, to be sharper in the game, said Mason, GungHo co-founder. "Yes they wanted to stay awake but they saw the rush, jitters and crash as performance distractions. Others were concerned about the sugar and health risks."
"Energy drink brands were all built for action sports and their pros. I love that GungHo is a focus supplement built for gamers and promoted by gamers. It's time we got a little attention, said Kurtis Stocks, pro gamer, CEO of Team FeaR, Call of Duty National Champions. "The way GungHo makes you focused is something I've never experienced before.''
With zero sugar, just four calories, no carbonation, and Ninja-Like Focus™, is GungHo the ultimate answer for gamers? "No, nothing replaces sleep, eating well, exercise and drinking lots of water. But if you want a boost of smooth focus, concentration and memory recall, then try GungHo," says Mason.
About GungHo®
GungHo is a focus supplement for the brain. It was launched by Go GungHo, LLC.out of Salt Lake City, UT in early 2012. More than simple alertness, GungHo's proprietary blend of ingredients are proven to increase focus, concentration, memory storage, and memory recall, while typically avoiding the harsh rush, jitters, and crash common with energy products. __title__ GungHo']