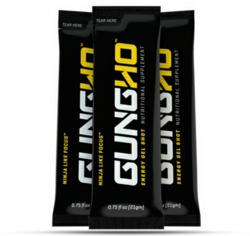 I doubled my headshots...GungHo increases your capacity to focus and memorise things over time -- Bahjeera, Pro Gamer
Salt Lake City, Utah (PRWEB) October 30, 2012
Energy Drinks Risk Health & Performance
The recent FDA investigation into 5 reported deaths (Monster Energy Drink Linked to Five Deaths - CNN News) has raised safety concerns among gamers who typically need a "lift" during late night sessions. But caffeine overload brings more than just a harsh rush and health risk. Energy drinks often disturb performance. "I get all jittery and distracted", says TBNRFrags, pro gamer and YouTube celebrity. It's not surprising that gamers have been turning to a healthier alternative delivering "brain energy", "focus" and "memory recall" needed to raise one's game.
Safety & Brain Health
A new focus supplement for gamers – GungHo® (Chinese for "work in harmony") claims to provide the safe, balanced increase in mental focus and brain energy that gamers crave. "I doubled my headshots. And GungHo actually increases your capacity to focus and memorize stuff over time - its brain health" said Bahjeera, pro gamer. "I love to game but i also want to stay healthy. Why would i jolt my physiology with an energy drink when i can get more focus and actually feed my brain with GungHo?", questions Kurtis Stocks, CEO of Team FeaR, National Call of Duty Champions.
Said Dr. Perry Renshaw, former Harvard professor, Director at the Brain Institute and renowned brain health scientist: "GungHo contains natural ingredients at proven effective doses to improve focus and concentration. Unlike energy products that deal with short-term energy and no lasting impact on brain energy, GungHo will actually increase levels of critical neurotransmitters in the brain over time."
Why care about "focus" and "neurotransmitters" when gaming? Is that just for pro gamers? While the brain makes up only two percent of a person's body weight, it consumes roughly 20 percent of the body's energy when at rest. When performing difficult mental activities, the brain needs even more energy. Also, "this cognitive boost improves the activity of neuro-hormones that act to offset, even eliminate, the jittery side effects of caffeine while increasing one' ability to maintain focus on the game itself. Mental focus is far more important for success than physical energy, for gamers," said Dr. Dan Mowry. "We polled more than 1000 gamers who took energy drinks or shots and asked them 'what they took the energy drink for'. Four out of five wanted to focus or concentrate, to be sharper in the game, said Mason, GungHo founder. "Yes they wanted to stay awake but they saw the rush, jitters and crash as performance distractions. Others were concerned about the sugar and health risks." GungHo has no sugar, only four carbs and no carbonation.
GungHo is a focus supplement for the brain. It was launched by Go GungHo, LLC out of Salt Lake City, UT in early 2012. More than simple alertness, GungHo's proprietary blend of ingredients are proven to increase focus, concentration, memory storage, and memory recall, while avoiding the harsh rush, jitters, and crash common with energy products.