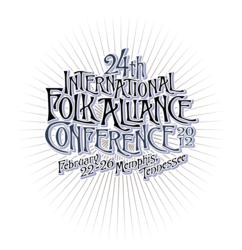 the art of discovery is alive and well...
Memphis, TN (PRWEB) July 07, 2011
Bob Lefsetz, Santa Monica-based industry legend, is the author of the e-mail newsletter, "The Lefsetz Letter". His intense brilliance captivates readers from Trent Reznor to Tom Rush to Bryan Adams to Quincy Jones to music business honchos like Michael Rapino, Randy Phillips, Cliff Burnstein and Irving Azoff. Never boring, always entertaining, Mr. Lefsetz's insights are fueled by his stint as an entertainment business attorney, majordomo of Sanctuary Music's American division and consultancies to major labels.
The 2012 International Folk Alliance Conference will also celebrate the centennials for Folk music legends Woody Guthrie, Bill Monroe and Robert Johnson.
Early-bird Conference Registration is now open for the 2012 Folk Alliance Conference and Official Showcase applications for the conference are now being accepted. The early-bird deadline for all showcase applications is September 24th, with a final deadline slated for November 19th. The early-bird rate for conference registration also ends on November 19.
Folk Alliance annually brings together over 2000 artists and music industry professionals and features over 200 juried music showcases.
For questions regarding the 2012 Folk Alliance conference, showcase applications, keynotes speaker Bob Lefsetz or general media inquiries please contact Anna Creek at 901-522-1170 or by email at anna@folk.org
JOIN FOLK ALLIANCE: Be a part of our rapidly growing community. Receive special member discounts on insurance, publications, manufacturing, travel, music related services, and much more. Discount group and multi year membership rates available.
Under the leadership of SXSW co-founder, Louis Jay Meyers, Folk Alliance leads the way in celebrating the past, present, and future of Folk, Traditional, and Roots Music.
The art of discovery is alive and well at the 24th annual International Folk Alliance Conference. See you there!
Folk Alliance International World Headquarters
510 South Main Street, Memphis TN 38103
(office) 901-522-1170 (fax) 901-522-1172
http://www.folk.org
fa(at)folk(dot)org
Facebook: http://www.facebook.com/folkalliance
Twitter: http://twitter.com/folkalliance
MySpace: http://www.myspace.com/thefolkalliance
Building Community One Song At A Time
###