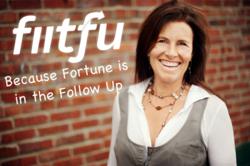 We will always focus our efforts on helping those that are solo entrepreneurs and small business owners.
Burnaby, British Columbia (PRWEB) February 29, 2012
Mary-Jane Mehlenbacher, the CEO of Fiitfu is no stranger to teaching, coaching and mentoring. From the corporate world to running her own home based business she has done many public speaking events, and now she has incorporated it into her role with Fiitfu.
"It is a natural fit" says Mehlenbacher "I have such a passion for helping people become more successful through effective follow up, and so when I was asked to be a key note speaker at a few upcoming events I jumped on it! This week I will be at Capilano University in North Vancouver BC training on follow up with a business class. I love this stuff, especially meeting the young people that are getting started in their new careers; it is a GREAT time to really instill the importance of follow up."
Fiitfu presently offers one set fee for their monthly subscription for their original CRM product "Getting Better all the time is our mantra for the year" says Mehlenbacher "so we will be coming up with some dynamic features and more options for our users. However, we will always be focussing our efforts on those who are solo entrepreneurs and small business owners! Our goal: to help this market become more successful in their home based businesses."
About Us: Fiitfu CRM is a web based Customer Relationship Management system with its focus being on consistent follow up. Originally designed specifically for those in network marketing, Fiitfu is now attracting clients from all different industries because of its ability to customize and its welcoming site. Presently their client base is Canada, Australia, UK and USA. They have a 30 Day Free Trial to help you get started. Also feel free to check out their Facebook page, one of the free gifts they give out is a coupon to be used towards your initial sign up.
###