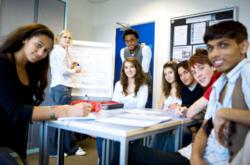 (PRWEB) January 12, 2012
Citizens in communities all across the U.S. face monumental financial struggles. To combat the country's long-term recession, the National Financial Educators Council (NFEC) is sharing free personal finance materials to organizations nationwide through the Financial EduNation campaign. Organizations and residents of California will be one of the first communities to receive these free financial literacy resources.
The NFEC's Financial EduNation campaign provides free personal finance resources for teachers, parents, students, non-profit organizations, and concerned citizens, with one goal in mind: to improve youth financial capability. This campaign empowers those who support youth life skill development while encouraging teens and young adults to pick up practical money management skills.
The NFEC has partnered with national celebrities, educators, and business leaders to raise awareness for the Financial EduNation campaign and the financial literacy movement. As Vince Shorb, CMO of the NFEC states, "We must let parents and educators know that it's vital to teach kids about money before they move out on their own. We see the consequences of financial illiteracy in the news every day: foreclosures, spiking poverty, and debt plague citizens across America."
Individuals and organizations can access the free personal finance material by visiting the Financial EduNation campaign center. Here they will find financial literacy curriculum, parent tip sheets, PowerPoint presentations, exclusive celebrity videos, after-school programs, and more.
Resources are also available for any parties interested in becoming involved to spread the message of financial literacy to their communities. The NFEC has a nationwide team of Local Community Ambassadors which they are actively seeking to expand. The Ambassador role is simply to share the complimentary resources with schools, parents, non-profit organizations, and community leaders.
The NFEC's Financial EduNation campaign addresses the growing need for personal finance training. Partnership with organizations across the United States is helping the NFEC to improve the financial capability of our nation's youth. The complimentary resources are made available according to the NFEC's social enterprise business model, which provides free products or training for every service purchased.
###