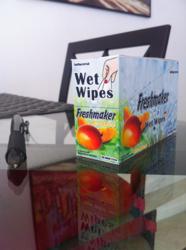 Wet wipes are a vital part of everyday hygeine
Miami, FL (PRWEB) August 07, 2012
"I can't say names," says Alexandre Tchogorian, speaking on behalf of the company, "but we are super happy!"
Freshmaker's Fruit Scented Wet Wipes can already be found in a number of Shell, BP, and Citgo gas stations, along with some privately owned super-markets. Now, the company is gearing up for a nation-wide shipment of their popular product.
Already popular in many Southern Florida locations, Freshmaker knows that hygiene is important in any part of the country. With their easy storage, colorful design, and enticing aromas, the Fruit Scented Wet Wipes are a wonderful compliment to any summer activity. With outdoor and group events more popular in the warmer weather, the need to be defensive against bacteria and germs is crucial this time of year.
Fruit Scented Wet Wipes are multi-purpose and anti-bacterial, are gentler on the hands than the common hand sanitizer, and are safe and fun for the whole family. After a successful run in Europe, Mr. Tchogorian decided it was time to branch out into the United States and reach a new demographic of customers.
Contact:
Alexandre Tchogorian
(305)384-8182
Freshmaker.usa (at) gmail (dot) com
http://www.facebook.com/Freshmakerwipes